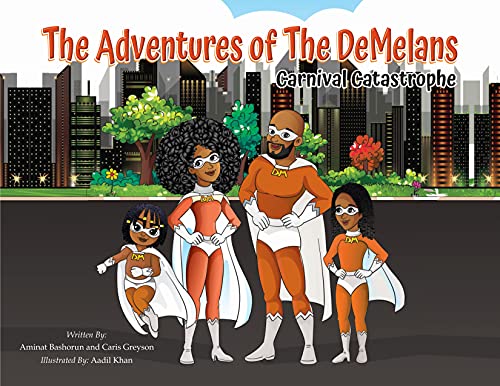 The Adventures of The DeMelans: Carnival Catastrophe by Caris Greyson, Aminat Bashorun
The Adventures of The DeMelans is an incredible story that gives a strong message of spreading smiles and helping those in need.
The DeMelans are a superhero family who lives in a busy metropolitan city, they have superpowers that they use to protect their city, but their twin children have not got their powers yet.
They all are excited about the carnival, but someone wants to ruin the fun, now the DeMelans family has the responsibility to save the carnival parade from the evil forces.
Get ready to meet this family of superheroes and their children, Micah and Mikayla, who discover their superpowers and learn to use them to save the big day.
This book encourages children to discover their superpowers and uniqueness in this big world.
Let's celebrate this black family of superheroes who empowers young children to dream big and show them that they deserve to see characters that look like them too.
Perfect for 3+
Grab your copy from Amazon.