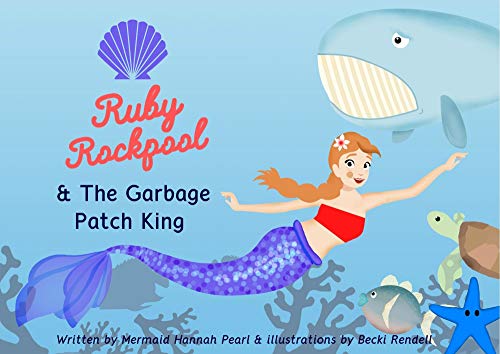 Ruby Rockpool & The Garbage Patch King by Mermaid Hannah Pearl
Who doesn't love mermaids? Ruby Rockpool, a marine warrior mermaid, is on a mission to help save our oceans and protect marine life.
As we all know, rare animal species and many aquatic animals suffer due to plastic and garbage in the oceans. Sometimes they get stuck in the plastic or eat it. Our one small step can bring a big change, so we all should come forward to save our beautiful oceans and sea creatures.
Ruby is a beautiful and kindhearted mermaid. One day, she received a message that the Garbage Patch King was growing in size in the Pacific Ocean. His enormous swells of plastic rubbish were getting bigger and trapping marine life.
Join Ruby and her friends as they travel across the oceans on a quest to defeat the Garbage Patch King, whose plastic pollution is big trouble for our blue planet.
The illustrations are vibrant and colorful pages filled with sea creatures, making this book a fun adventure journey for kids.
Ruby Rockpool & The Garbage Patch King written by real-life Mermaid Hannah Pearl from UK, is a captivating book that encourages children to learn more about marine animals, threats to ocean life, plastic wastage, and the climate crisis.
Perfect for 2+
Grab your copy from website.