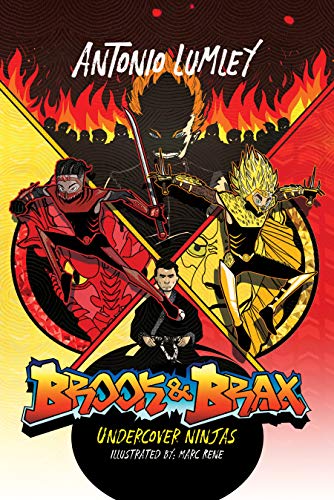 Brook and Brax: Undercover Ninjas by Antonio Lumley
Brook and Brax: Undercover Ninjas is an incredible story of friendship that teaches children to believe in themselves and gives them the courage to stand up against bullies.
Get ready for the action-packed adventure with best friends Brook and Brax, two undercover Ninjas, who started their journey to become ninjas in first grade due to bullies Puke and Lil Dumps, who threaten and hurt them daily on their way back home from school.
One day, during their escape from bullies, they entered an antique furniture store and met a Sensei, a teacher who agrees to give them the training to become ninjas.
Now they are in fifth grade, and after five long years of vigorous training, they are ready to wear that magical and fiery Ninja suit because of their precision and dedication. While Brook and Brax were busy in training, Puke and Lil Dumps took over the school. They bullied not only students but started harassing teachers and even the principal.
Join Brook and Brax on their adventurous and exciting journey to become Undercover Ninjas and save their school from those bullies.
This book teaches young children to keep faith in themselves and helps children gain confidence. Brook and Brax: Undercover Ninjas is a fast-paced story that reminds me of the movie, The Karate Kid, and I'm sure boys will love this action-packed adventure book.
Perfect for 7+
Grab your copy from Amazon.