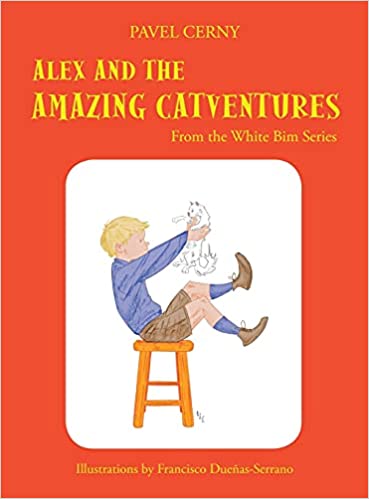 Book Review
Alex and the Amazing Catventures by Pavel Cerny
I can't believe this story was shaped in 1981 and inspired by real-life characters. A kind and caring boy, a cute furry talking cat, a lot of snow, and the Christmas season. What else do we need for a good Christmas story?
It was Alex's sixth birthday, his dad came with a white box which somebody left by the department store, and it said, " Please take care of me." When Alex opened that box, there was a soft furry white cat that instantly took over the heart of Alex, and he named him white Bim. His mom didn't like cats, so Alex volunteered to take care of this little creature. Alex and Bim have become good friends and always spend their time together.
One day Alex finds out that he will become a big brother, and her mom isn't able to do household chores, so he had to go to Grandma's house for Christmas. At Grandma's house, he had a lot of fun in the snow and was surprised to find that Bim can talk too. Alex and Bim discussed the coming baby brother or sister and concluded that kittens are better than babies.
Alex waited for a good Christmas celebration, but his grandma did not set up a Christmas tree as his dad promised to him, so he decided to run away from there. Now you have to read this beautiful Christmas story to know what happened after they ran away from Grandma's house and how he celebrated his Christmas with Bim.
Each page is like a beautiful piece of artwork and fully captures the essence of the story. This charming story teaches about pet love, friendship, teamwork, and dealing with difficulty. It is a fun and adventurous read for children that teaches them to believe in magic.
Perfect for 6+
Grab your copy from Amazon.