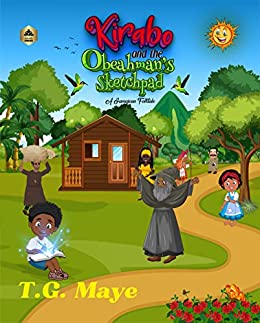 Kirabo and the Obeahman's Sketchpad is captivating Jamaican folklore, very well retold by T.G. Maye and vibrant illustrations reflect the traditional culture and Jamaican heritage.
This compelling story follows a young couple, Jomo and Juri, who lived with great difficulty. After so many years, they had a son with God's grace, and they named him Kirabo. Kirabo is barely three-years-old when Jomo leaves them to find a job and doesn't return. His mother, Zuri, has to raise him alone, and sometimes they don't have enough food to eat.
In the nearby forest, an Obeahman called Ahriman steals an ancient and magical sketchpad from a fortress, but its maker cast a spell on it, which prevented Ahirman from using it. He knows the family's plight, so he plans to trick Kirabo into helping him attain his evil goals. He gifted this sketchpad to Kirabo, but Kirabo uses his wisdom and his mother's guidance to unravel Ahirman's wicked scheme.
Read this touching Jamaica's rich cultural folktale, which gives the message of hope, love, bravery, kindness, and never giving up.
Perfect for 5+
Grab your copy from Amazon.