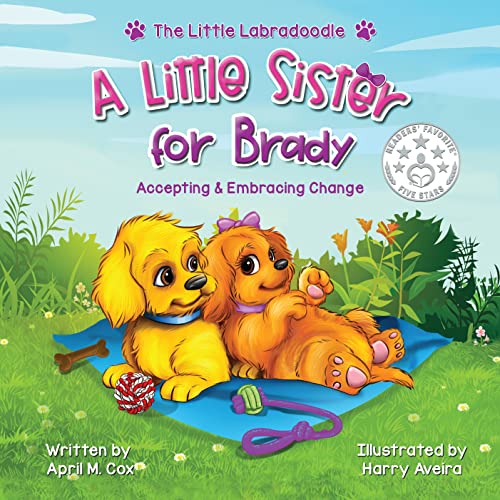 A Little Sister for Brady by April M. Cox
A Little Sister for Brady is a beautifully illustrated book that helps younger children to accept a new sibling in the family and shows it can be fun and confusing at the same time.
Having a new baby is an exciting change for the whole family, but it can be difficult for young children because they are attached to their parents, and when they see a new baby in their mom's arms, they don't know how to behave or might feel like our cute little Brady.
These changes come to life through the charming character of Brady, an adorable puppy whose feelings look very genuine to the young readers, and at the same time, it will help them prepare for a new change.
Brady feels alone when his Nana and Grandpa go to work, he tries to play with birds or bees, but they fly away. One day grandpa takes a new pup, Mandy home, she looks cute, but now Brady has to share his bones, food, toys, and even nana's lap with her. Brady wants her to go away, then the next day, Brady finds that Mandy is not in the home.
Join Brady on his learning journey to accept and embrace the big change in his life.
This cute and sweet story is very relatable for every family and shows how we can prepare our child to welcome a new child into the family.
Perfect for 2+
This book is available on Amazon.