The Rainbow Boat by Hélène Ferreira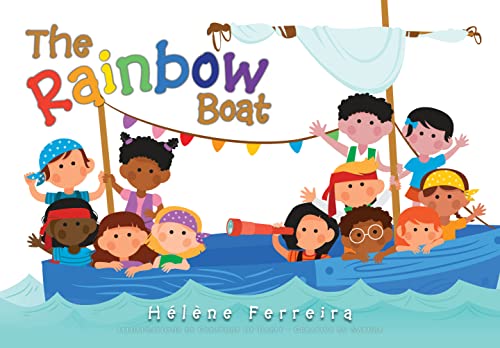 The Rainbow Boat is an inspirational book for young children that gives a strong message of kindness, love, diversity, friendship and makes them ready to conquer this world.
The crew of young girls sailed across the aquamarine seas in their bright blue boat. First, they reached an island of boys, where they made new friends and learned to share and help those in need. As children sail from island to island, they explore new adventures and face some dangers, so they paint a new color stripe on their boat to remember the lesson they learned from that particular island, and at the end of their adventurous journey, their boat becomes a rainbow-colored boat.
The Rainbow Boat is a fun-filled fantasy adventure that teaches children to face new challenges in life with bravery and overcome obstacles that come in their way. So take an exciting boat trip with the crew of children and sail along to see if they can find their happy place in the sun.
Filled with diverse characters, delightful rhyming, and fun illustrations, this adorable picture book is a perfect read-aloud for parents, educators, and kids ages 4-10! This fun-filled storybook is a perfect stocking stuffer or Christmas gift for kids!