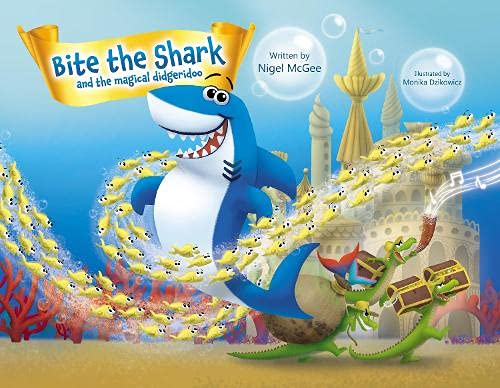 Bite the Shark and the Magical Didgeridoo by Nigel McGee
Bite the Shark and the Magical Didgeridoo is a fascinating story of courage, bravery, and teamwork that takes children on a magical journey of the underwater world filled with beautiful sea creatures and a lot of adventure.
Bite is a friendly white shark who loves to swim, play, and explore. Unlike other sharks, Bite only eats plants because that makes him strong and unique, so mer-King and Queen make him the guardian of the Kingdom Underwatervania. But one night, something terrible happened in the underwater kingdom, a robbery, and both Mer-King and Queen were missing from their royal bedroom.
Now read on to find out how Bite is the only one who shows the courage to go in search of the missing treasure and decides to rescue the Mer-King and the Queen from the mischievous crocodiles.
For all the shark fans, this book is a must-read. With charming illustrations of adorable sea creatures, this book is a fun learning experience for your little ones.
Perfect for 3+
Grab your copy from Amazon UK.