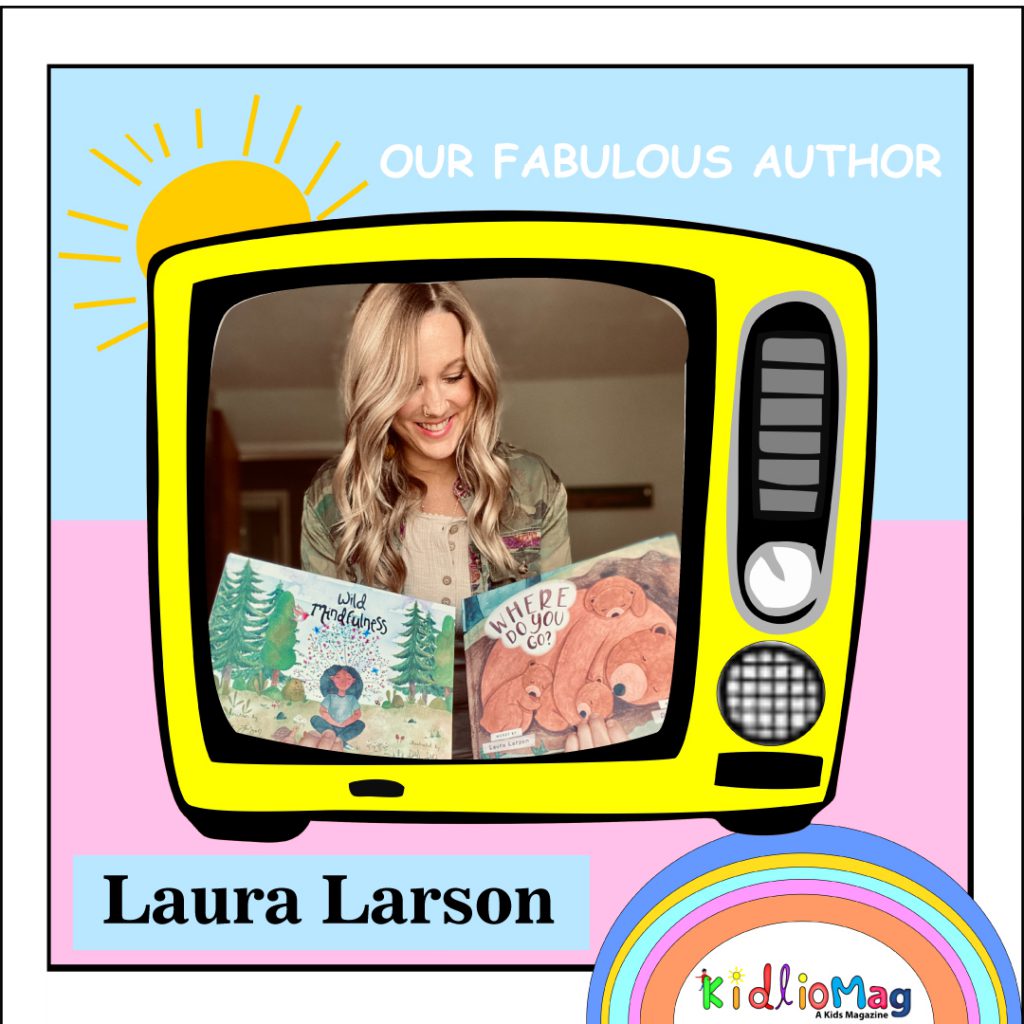 Q:  First tell us something about yourself?
Hello! My name is Laura and I am a full time elementary school counselor, new children's book author, mother of two and married for 14 years. We have two dogs, one chicken and live for camping and traveling! 
Q: How and when did your journey start as a writer?
I think I've always wanted to be a writer and write a book as long as I can remember, but never really knew if or how it could happen.  I really enjoyed writing over the years and putting my thoughts and words out in the world.  I had gotten a lot of positive feedback over the years and so in 2018 I decided it was time to start the process of actually writing a book! 
Q: When did you write your first story? Is it published or not?

I started my first book in 2018 and published it in 2019, and my newest release I started right at the beginning of the new year and it just got published this past November 2021.
Q: Tell us something more about your books?
My books have a strong nod to mindfulness and nature–those are two of my personal passions!Working in an elementary school as a school counselor, I have the opportunity to utilize children's books day in and day out.  I found a bit of a gap in the mindfulness + nature arena and so wanted to create some resources that scratched that itch. 
Both of my books help to teach skills of mindfulness in the form of guided imagery, visualization and breathing.  They are very interactive and help to make mindfulness an easy, enjoyable and peaceful activity for anyone to practice. 
Wild Mindfulness: This picture book is meant to teach, guide and allow children (and adults!) to experience mindful moments through guided imagery and breathing techniques as they follow along a young girl and her adventures camping and exploring in the wild.  As mindfulness is the intentional practice of experiencing the here and now without letting our thoughts or feelings interrupt, this book allows children to be fully immersed in the moment while bringing an awareness and calm to their body while they listen or read.
They will have moments throughout the book to pause and be guided in a mindful moment as they learn about and practice mindfulness while incorporating themes of nature and wilderness. Each page is full of colorful and whimsical illustrations that invite readers to put themselves in the story and add to the mindfulness journey.
Where Do You Go?: Where Do You Go? is an enjoyable rhyming book focusing on the power of the mind to create a place in our imagination that brings us peace. Maybe we dream of a beach where oceans crash, or floating freely and slowly through space to find our calm. This story talks of the normalcy of having a busy brain with worries, fears and jumbled thoughts, and walks through some special places we can imagine to take us away from the "buzz" that our brains can feel. The incorporation of imagining with all of our senses is a great and useful mindfulness tool for emotional regulation in both children and adults. Suitable for all ages to encourage the mindful practice of taking "mental vacations" when we need a break and finding a grounded peace in the sometimes chaotic world around us.
Q: Why do you choose kids as your reader ? is there any specific reason?
Working as an elementary school counselor, my students have always been an inspiration behind the books I write!  There are a lot of really great children's books and literature tools out there for me to use, but my job also allows me to see some gaps and so creating these books allowed me to fill in some of the gaps that I saw and wanted to fill to utilize with kids in teaching them about mindfulness!  Working with students on a daily basis, I get a first hand look at some of the high needs that kids have and some that I have seen exponentially grow over the years is the need for tools to regulate their emotions, combat anxiety and create an inner peace. Kids are great teachers to show us what they need!
Q: How did these stories and characters come to your mind?
Wild Mindfulness was inspired on a camping trip with my husband.  While camping and sitting by the fire and talking, the idea just started to come to me.  The thought of a little child on a camping adventure (much like we love to do as a family) and then while on her adventure she is taking some intentional mindful moments throughout–using her senses to take it all in by way of guided imagery prompts throughout the book.  I was very adamant about my character's race and gender.  I wanted it to be a girl, as girls are often underrepresented in books about adventure, the outdoors and exploring.  I also wanted it to be a child of color.  Our BIPOC community is grossly underrepresented in children's literature.  It was important to me to have a character that kids can look at and relate to.  That my students can find in the library and say, "hey, that girl looks like me!".  All children deserve this representation. 
Where Do You Go? is also rooted in mindfulness and nature, but strongly inspired by working with my students over the past couple of years through a lot of things that has made our world feel upside down. Not only the pandemic and how it has created fear, sadness, anger and anxiety, but also lacking the ability to have certain child-like freedoms they used to have.  In addition to the turmoil of the pandemic, I've worked with our students in processing the uproar and heightened influx of racial disparities of our BIPOC communities and how violence and racism is affecting them.  Our community in Minnesota has been the center of a lot of civil unrest and violent protests and so that has understandably increased a lot of fear and anxiety for our children not only that witness it, but face it in their personal lives.  Not to mention just daily worries about friends, tests, parents, fitting in, etc.  It's a whole lot for our young minds to take on and process.  It spurred me on to create a mindful literature tool for children to practice finding a safe space in their minds.  While we may not be able to tangibly end the pandemic, racism or other strong worries overnight, we can teach them how to use their minds to find peace in the chaos.  To ask, "where do you go?" when they imagine a place of peace and calm.  Is it a beach sticking their hot feet in the sand and listening to the waves?  Is it in a secret fort with all of their favorite things around them where they can hide away?  Is it somewhere else in nature where they can observe sounds, smells, touches and sites that give them peace?  This book is meant to help children explore places in their minds that make them happy and feel regulated and to know that they can "visit" there anytime they need!
Q: Do you want to leave any message for your readers?
I hope for these books to not only bring some peace and calm, but will also be utilized as tools to teach mindfulness to children in schools, homes, libraries, etc!  And a huge THANK YOU to anyone that has purchased and uses my books to help instill these skills.  It truly means more than you know and is a dream come true!