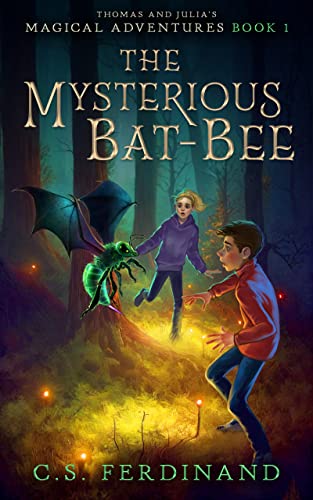 The Mysterious Bat-Bee: A Middle Grade Fantasy Adventure by C. S. Ferdinand
What a well-crafted fantasy middle-grade adventure book around a family full of magical secrets and a forbidden forest filled with magical creatures! 
With the mysterious Bat-Bee, witches, dark magic, a magic potion book, and an enchanted journey of two young children who race against time to save their grandfather's life, this fascinating book has all the possible elements to keep the readers fascinated till the end.
Thomas and Julia live their simple life with their grandparents until one day, a strange insect with the body of a bee and the wings of a bat stings Grandpa John, who falls desperately ill. Grandma Rini enlists the help of her witch sister Magda.
Magda needs a special ingredient to make the magic potion to cure Grandpa John, but it is with another witch who has created the mysterious Bat-Bee.
Can Thomas and Julia defeat a fearsome foe and find an enchanted cure?
There are so many mysteries and family secrets revealed later in the story, so join Thomas and Julia on their adventurous journey where they have to believe in magic and magical creatures to save their grandpa's life. Now you have to read this fascinating book to know what happens when they go into the forbidden forest to collect magic ingredients.
This book teaches children to keep courage and faith in themselves and highlights the importance of friendship and family.
Perfect for 7+
Grab your copy from Amazon.