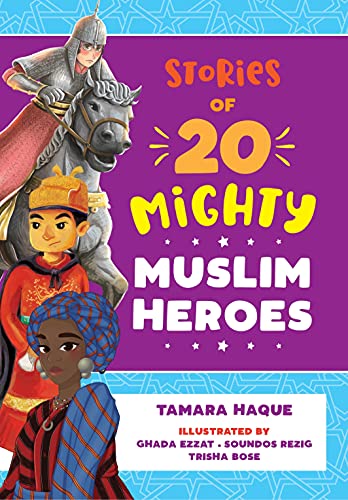 Book Review
Stories of 20 Mighty Muslim Heroes by Tamara Haque
Do you know the story of the first nurse? The female navy commander who defeated the Dutch army…twice!
Get ready to meet twenty mighty Muslim heroes who change the world over the centuries with their faith and learnings. This book has 20 inspirational stories of Muslim heroes from the 7th Century-19th Century. I was surprised to read about female heroes like Nusayaba bint Ka'ab, a warrior from the 7th century, Queen Zubaida of Baghdad from the 8th century, Malahayati, the first admiral from the 15th century, and many more.
All these women played an important role in shaping the Muslim community. They all are well educated, and you are surprised to know that one of them even established the first university 1000 years ago.
All these stories proved that women could outshine in any field, and these inspiring stories encourage them to follow their dreams.
I already knew about some heroes like Razia Sultan, the first female ruler of Delhi, Ibn Batuta, a great explorer, and Begum Rokeya, an educator who stood up for women's rights and education.
I just loved the concept of this book to teach children about history and the great Muslim heroes from the past who put their efforts to make people strong and educated.
We need more such books so kids can get to know more about great heroes, history, different cultures, and how they contributed to the world of science, arts, and education.
I just loved the concept of this book, so I'm looking forward to reading more about such great people.

Perfect for 7+
Grab your copy from Amazon.