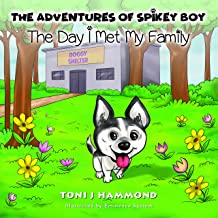 The Adventure Of Spikey Boy: The Day I Met My Family By Toni J Hammond
Illustrated By Eminence System
This book truly shows how animals are longing for love and care like us, and every dog deserves a home.
Spikey Boy, a cute little dog lives in a shelter home and saw many dogs go home with their families. He always tries hard, so the next family chooses him to adopt. This book is about spikey's determination to find a family to adopt him.
Illustrations are also beautiful and colorful that makes this book very eye-catching, and language is easy and simple for kids, so they can easily read this book by themselves.
This book is not just a fun and colorful read but also teaches kids about empathy and kindness towards animals.
Book is perfect for kids aged 3 to 7 years.
This Book is available on Amazon.