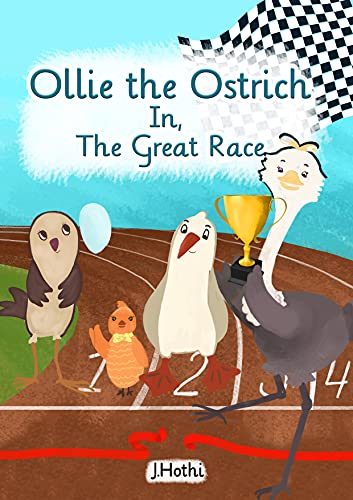 Ollie the Ostrich: In the Great Race by Jitesh Hothi
Ollie the Ostrich: In the Great Race is a cute rhyming story that reminds us of the importance of accepting each other, celebrating our differences, and takes us into the world of beautiful birds.
Ollie is a big, round, and fluffy Ostrich who loves to eat, play and laugh with his friends. One day at school, other birds said, you are not cool, and you can't even fly like us. Ollie feels sad, but with the encouragement from his parents, he decided to show his friends that being different from others is not bad, it makes him unique.
Join Ollie the Ostrich on his journey to discover his uniqueness and celebrate his accomplishments with pride. The Illustrations are beautiful and help kids to understand the story with the picture themselves.
This bedtime story teaches children that everyone is unique and has different qualities, so discover your uniqueness and strength, and there is no need to compare yourself with others.
Perfect for 2+
Grab your copy from Amazon.