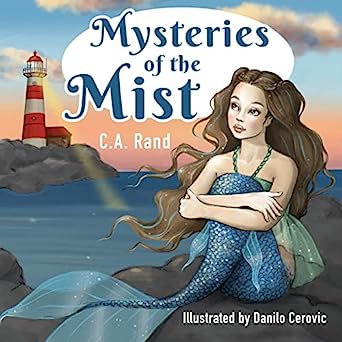 Mysteries of the Mist by C. A. Rand
Mysteries of the Mist by C A Rand is a captivating read that takes readers on a magical journey through a beautiful Island, an old lighthouse, and some mystical creatures.
Coralee, who just turned sixteen, is spending her summer vacation at the Silver Wing Point lighthouse with her beloved grandfather, Rigger renovating the old lighthouse.
She believes in magical fairy tales, mermaids, and sea fairies and always hopes to meet them at the seashore. At this time, Coralee is lucky to meet Mist, a beautiful mermaid who gifted Coralee a magic necklace in exchange for saving her life. But a fun vacation soon turns into a stormy disaster when her grandfather goes out to sea and doesn't return.
Read to know how Coralee saves his grandfather's life with the help of her magical necklace and Mermaids.
The author skillfully weaves magic into this fictional plot to create an exciting and adventurous story. The misty setting also adds a layer of intrigue and mystery to the story. Overall, "Mysteries of the Mist" is a must-read for anyone who believes in fairytales with a touch of mystery and suspense.
Perfect for 7+
Grab your copy from Amazon.