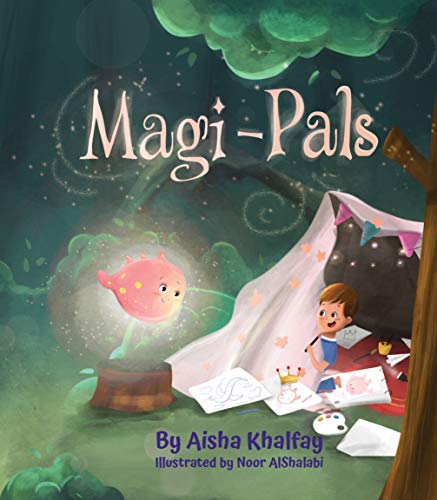 Magi-Pals By Aisha Khalfay
Illustrated By Noor Alshalabi
Feeling Silly, Scared, Upset? Don't fret! Your imaginary pals can help you cope just yet! They will be there for you no matter what! They will be your listening ear. They can even run and slide with you through magical places in the clouds, or under the sea! You will soon find that your spirits have been lifted, and you can do everything, and be everything that you wish to be!
Join us in the discovery of Magi-Pals, where we learn the nature of these loyal companions and why YOU need them!
Book Review
Magi-Pals is a beautiful book about an imaginary friend or may be real who is always there for you, whenever you need them in your good and bad days, who encourages you and cheers for you too.
We all need a friend like Magi-pal so this book is based on an imaginary adventure with your magic friend. Children have vivid imaginations and this book encourages children to harness their emotions and give wings to their great minds. This book talks about their powers and strength so they can make full use of it.
I really want to admire the author for writing such a wonderful book for children so they never feel alone. Beautiful illustrations and Rhyming text makes it a fun and enjoyable read for children.  
Perfect for 3-8 years
This book is available on Amazon.