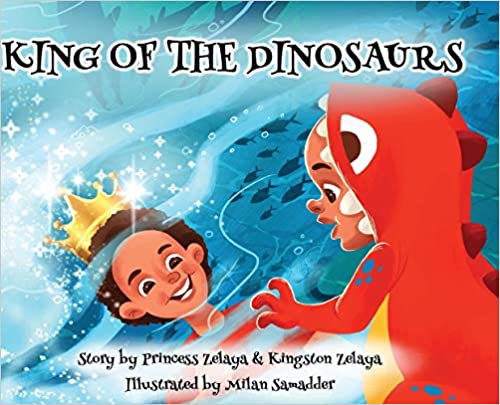 Book Review
King of the Dinosaurs By Princess Zelaya, Kingston Zelaya 
Illustrated By Milan Samadder
King of the Dinosaurs is a wonderful story of a young boy Kingston, who loves to play with Dinosaurs, and always wears his dinosaur suit even at bedtime.
Join Kingston and his adventure into the Jurassic world where all Dinosaurs said that you must be the one we have been waiting for years, you are our king. "All hail the King of Dinosaurs."
He said to each dinosaur that "I am a boy, I have two legs, two feet, two arms, and two hands…I cannot will not, be the King of Dinosaurs!"
This book is written in such a manner that children will love to read it again and again. Rhyming text and wonderful illustrations give us a feel like we are into a Jurassic world. This book is written from the children's perspective, about their imaginary world, and it helps them believe that dreams can be true and give them the confidence to explore this world.
A joyful and playful read for little ones.
perfect for 1+
Book is Available on Amazon