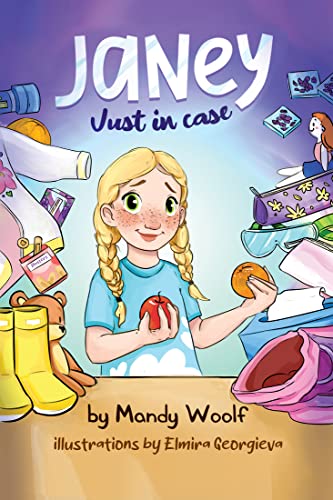 Janey Just in Case by Mandy Woolf
Janey Just in Case is an insightful children's book that teaches them to deal with their fears and everyday situations and helps them stay calm and focused.
We all love to plan, but as a human brain, we always pack something extra, just in case we need those things.
Janey is a cute little girl who was worried about her first day of school. Her head was full of worries, and she couldn't decide on one thing, so she packed some extras in her school bag, even she packed extra snacks.
Her dad said, your bag is heavy! You should take out some extras, then she said, Dad, I need everything, just in case!
Now you have to read how this extra stationery and snacks help Janey make new friends, and with them, she forgets all her worries.
I loved the beautiful character of Janey, who is kind, friendly, hopeful, and always ready to help others. The colorful illustrations are enough to grab the attention of readers.
This charming story of self-belief and friendship inspires children to help their friends during stressful times and helps children gain confidence.
Perfect for 3+
Grab your copy from Amazon.