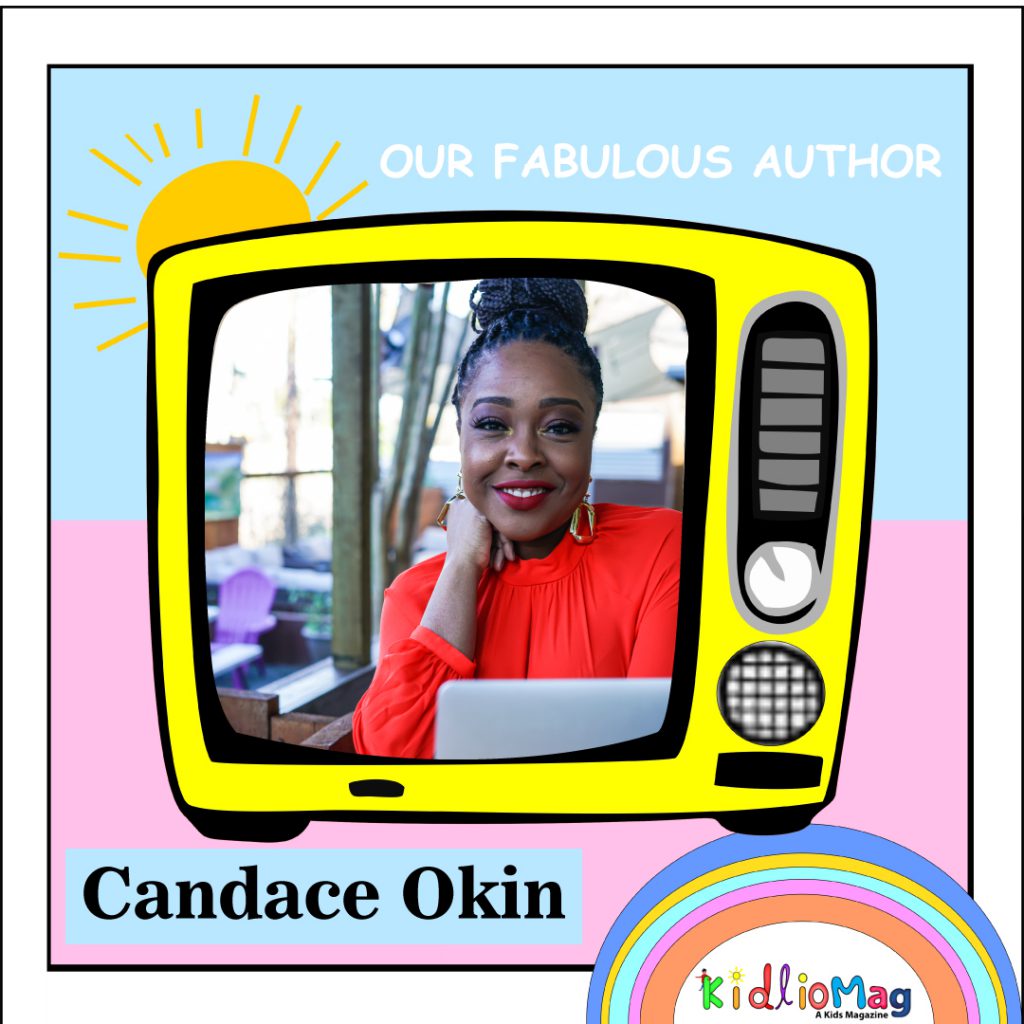 Q:  First tell us something about yourself?
I'm Candace Okin, a Houston based author and mother who is driven by the mission of encouraging the love of reading. I create literary works that aim to ignite curiosity, creativity, and excitement which naturally occurs through the reading process.
I'm inspired by engaging children through imaginative literature that highlights important life skills and Black history. My goal is to educate while opening the doors to possibilities for young peoples' sense of wonder, self-worth, and purpose through the limitlessness of language, the arts and history.
Going beyond the basis of children's stories, my books provide avenues for young people to create their own unique stories, through resources, and purposefully curated experiences. My efforts are meant to fully captivate and encourage young minds, and to catalyze my readers to become the authors and protagonists of their lives.
Q: How and when did your journey start as a writer?
I have been a writer my entire life in a variety of capacities. I began my professional career as a grant writer and an internal communications writer for nonprofits across Houston. I began my career as an author in 2020, after writing and publishing my first children's book, Mason Makes Money.
Q: When did you write your first story? Is it published or not?
My first book, Mason Makes Money, was published in 2020. Told through the voice of a young boy, Mason, who starts his own business to help a friend in need, it journeys children through fundamental concepts of entrepreneurship and money management. Mason Makes Money has since become the springboard for a nonprofit I started, Mason Makes Money Fund, which gives financial and educational support to kid entrepreneurs ages 7-13.
Q: Tell us something more about your books?
My entire purpose of writing is to tell stories that will inspire and motivate readers to amplify their lives, in whatever way that is most beneficial for them. For instance, my new book, Joseph the Great aims to encourage healthy coping skills, and for children to explore and operate out of their inner strength, while teaching them about monumental events in Black history, and American history. In Joseph the Great, the Great Migration and the Harlem Renaissance are examined due to the timeframe of the book.
Q: Why do you choose kids as your reader ? is there any specific reason?
It is paramount that we take the best of ourselves, our lessons learned and even our failures and leverage them to support and equip the next generation. Toni Morrison once said, "your real job is that if you are free, you need to free somebody else. If you have some power, then your job is to empower somebody else." Our children deserve the best chance at a limitless future, and that is possible with education and support. My choosing children as my readers is my effort to free and empower our greatest asset; our children.
Q: How did these stories and characters come to your mind?
To specifically talk about Joseph the Great, I read a book called, "The Warmth of Other Suns," by Isabel Wilkerson. This book chronicles the Great Migration. Her telling this story profoundly moved and inspired me, and I wanted to write about this time in history as well, except through the eyes of a child. What makes history so fascinating to me is that the people who make history are just ordinary people like you and me. Yet, they are people who are bold and brave enough to actually MAKE history, and become extraordinary, whether they know it at the time or not. During the Great Migration, over 6 million African-Americans migrated from the south to other parts of the country in search for better social, educational and professional opportunities. There were literally millions of Josephs. I tried to empathize with what they must have gone through, what it might have been for them to give up all they knew for an unknown future. For many, all they had was whatever inner strength they could muster, and the hope for better in their possession.
Q: Do you want to leave any message for your readers?
It is often said that knowledge is power. Actually, knowledge on its own is potential, but knowledge applied is power. Do not be afraid to apply what you know. Commit yourself to lifelong learning and application, and you will NEVER fail!