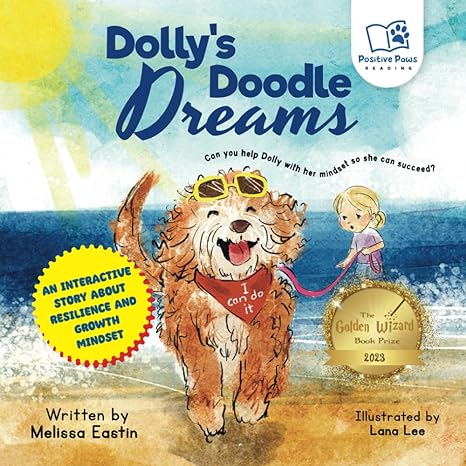 Dolly's Doodle Dreams: An Interactive Tale of Perseverance and Mindset by Melissa Eastin
"You must never doubt your ability to achieve anything, become anything, overcome anything and inspire everything."
Dolly is a curious little puppy who is adored by her family. She learns new activities daily, but Dolly's challenge was to walk nicely on a leash.
Through her humorous adventures, Dolly learns the invaluable lessons of diligence, determination, and a positive outlook as she embarks on a quest to master the art of walking gracefully on a leash. Can she resist all of the thrilling distractions around her?
Follow Dolly on her adventurous journey to learn that if you want to succeed in life, then you have to finish what you've started, and with a positive mindset, you'll always come out as a winner. It encourages children to overcome obstacles, never give up on dreams, and celebrate their achievements with pride. 
Illustrations are vibrant and colorful pages filled with Dolly's adventure scenes making this book a fun learning journey for kids. This delightful story teaches young children what it means to persevere and stay true to yourself.
Perfect for 4+
Grab your copy from Amazon.