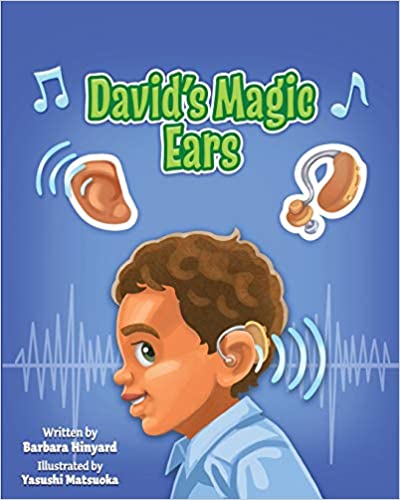 BOOK REVIEW
David's Magic Ears by Barbara Marie Hinyard

David's Magic Ears is a beautifully illustrated picture book dedicated to children born deaf or with hearing loss. This book is not about showing any sympathy but celebrating their uniqueness and telling them that everyone is unique in their own way.
David has a loss of hearing, he knows his life is about to change, but he is ready to accept the new challenges. He is excited to get his Magic Ears: a hearing aid placed in the ears to make sound audible.
David is ready to explore the world of hearing through his magic ears. His dad and sister Imani are also very happy to see his big bright smile. Join David on an adventurous journey of discovering the world of sounds through magic ears.
This book empowers and encourages children to love themselves, be proud of their uniqueness and other physical differences such as disabilities or skin disorders.
In the end, there are ways to communicate with hearing-impaired children, sign languages, and some activities for children.
Perfect for 3+
This book is available on Amazon and website www.mikesgamestation.com/