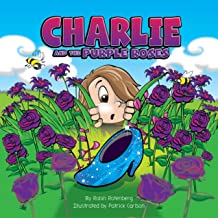 Charlie and the Purple Roses  By Robin Rotenberg
Charlie and the Purple Roses is the first story in the Glass Slipper Series written by Robin Rotenberg, author of Pound On!! From the Glass Slipper to the Glass Ceiling.
This book is like a beautiful fairytale with a strong message for children that Don't try to fit in anyone's shoes….make your own path that will make you stand out.
Charlie loves to play with his dog Mango in the field. One day he finds a sparkly and glittery glass slipper in between the bushes of purple roses. He tried to find someone to fit into the slipper, but it did not fit anyone.
Illustrations in this book are really amazing and give us a feel like we are reading a fairy tale book. This book teaches children so many things like kindness, diversity, and how to be happy and focused.
The book comes with an instructional activity guide for parents and educators, as well as a coloring book version for children to imagine and create their own version of Charlie and his family and friends. Instructional guides are available for free at TheGlassSlipperSeries.com
Perfect for 6-9 year old
Available in English, Spanish, French
This book is available on Amazon.