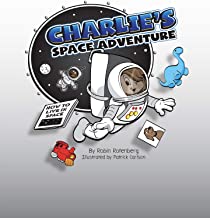 Charlie's Space Adventure By Robin Rotenberg
 
Charlie's Space Adventure is a must-read for all those kids who love stars, moon, science and want to become an Astronaut.
Charlie's Space Adventure is the second story in the Glass Slipper Series. Every night Charlie looks up at the sky and dreams about going to the moon. He thought how exciting it is to travel in the space between the stars and planets.
While he prepares for his mission with Jeannie and his dog Mango, Charlie learns about what to eat in space, spacesuit, the wonder of space travel, and a lot more about our earth and moon.
This book is a fun way to learn about space and the planets, so join Charlie, Jeannie, and Mango on their adventure into space.
 
The story engages the reader in scientific discovery and showcases the excitement and wonder of our planet as well as the thrill of space travel. It also speaks to overcoming our fears so that we can enjoy exciting new adventures.  
The Illustrations are wonderful and amazing so that children can understand the story by the pictures themselves, and it gives us a feeling like we are in the universe between the stars.
Perfect for 6-9 year old 
This book is available on Amazon in English, Spanish, and French.