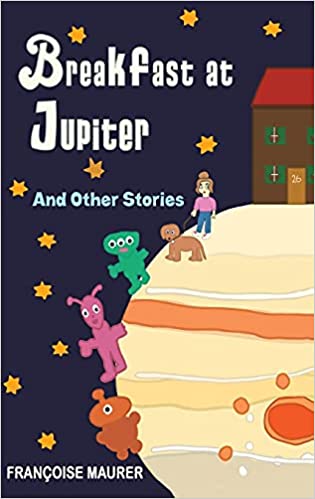 Breakfast at Jupiter and other stories by Françoise Maurer
Do you ever imagine breakfast at Jupiter,
Lunch with the Tudors, Tea under the sea, and Snacks in the future.
This book follows three sisters, Esther, Cecily, Alice, and their fun and imaginative adventures that take them into the world of magical dreams.
Usually, they all have the same feeling of waking up in another place and always find themselves alone in a strange place, like sometimes in space, in the past, or under the sea, but this time they are all together in the future.
Follow these three sisters on their fun and adventurous journey with their adorable golden Labrador, Cosmo. These imaginative stories are full of adventure and take children into the magical world of aliens, in the palace of Westminster, under the sea, and in the future. There are so many interesting characters and creatures that make this book an enjoyable and engaging read. This colorful book is full of beautiful illustrations and a great way to explore children's minds.
Perfect for 6+
Grab your copy from Amazon.