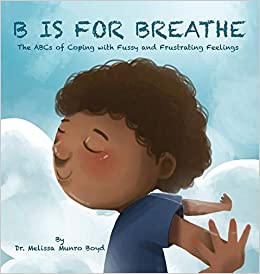 B is for Breathe is a cute and amazing children's book in A to Z alphabetical order. This is a wonderful concept to teach children about alphabets and various activities . I think this is the most amazing alphabet book ever which teaches children about expressing their feelings and some simple activities like H for Hug ,  K for kick ,R for read ,W for write, Y for yoga and a lot more .
It's a beautiful  book that talks about self love, shows positive behaviors, and practices calm down strategies.    This book is a wonderful read for children so they can understand how to deal with fuzzy emotions and feelings.
The Illustrations in this book are just mind blowing and kids can easily understand this book with the picture itself.  
This book is worth reading with the children and can be used as a teaching tool in school libraries. I just want to admire the author for writing such a wonderful book for children which can be read daily with them to grow them as confident human beings so I highly recommend this book to all the parents out there. 

perfect for 1+
Available on AMAZON