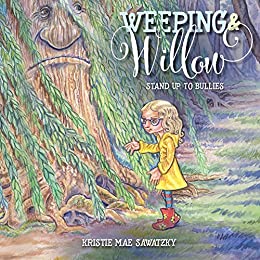 Book Review
Weeping & Willow: Stand Up to Bullies by Kristie Mae Sawatzky
Weeping & Willow is an inspirational story for children that gives them the courage to stand up against bullies and to know that we all are beautiful in our own way.
Willow is a pretty and kind-hearted girl. She has a beautiful backyard full of tall oak trees, fruit trees, lilac trees, and one unique tree.
One day, She heard the whimpering sound in the backyard, but she couldn't figure out where it was coming from.
The next day, Willow hears someone crying and finds a large tree trunk, which is almost covered with a curtain of leaves and trees from all sides. Weeping said to Willow, I feel rejected here between all the trees, some have fruits, or some have flowers. They all make fun of me that I have nothing to do except standing here all day.
Read this delightful story to know how Willow and weeping tree learns together that our words can hurt someone, and our differences make us special, so we don't need to compare ourselves with others. This beautifully illustrated rhyming picture book helps children overcome their negative thoughts and teaches them to believe in themselves during uncertain times.
Perfect for 5+
Grab your copy from Amazon.