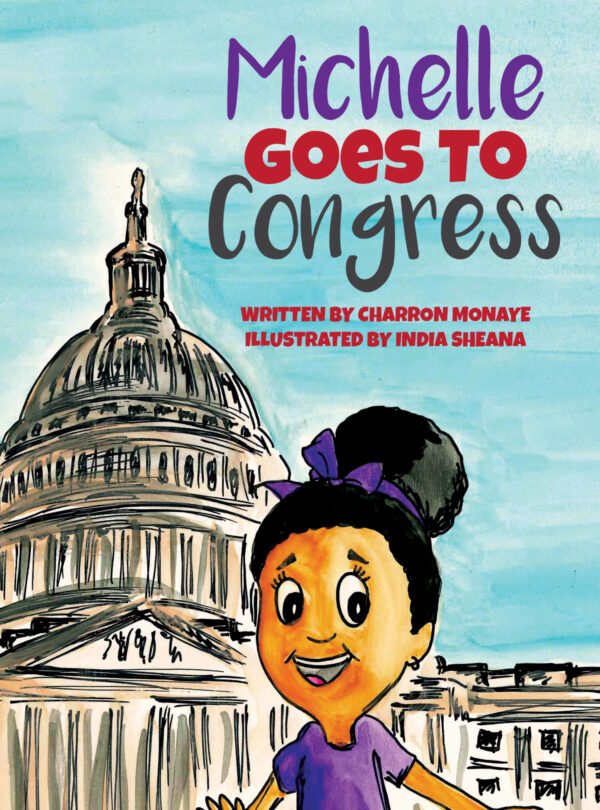 Michelle Goes To Congress by Charron Monaye
Sometimes kids are curious to know about how we elect our President, how a bill becomes a law, what does the House of Representatives do?
Michelle Goes To Congress is an incredible book that introduces children to government and how it works.
Executive Branch! Legislative Branch! Judicial Branch! Who really runs the world?
Michelle is excited to visit the U.S. Capitol with her class and teachers Mr. Cauley and Ms. Hopson. All students are fascinated by the U.S.Capitol building and eager to learn more about the House, Senate, and their functions. During their tour to the building, Ms. Hopson asked students some easy questions to check their interest, and they all immediately answered them. Ms. Hopson was very impressed by their knowledge about the government and their interest in history. Michelle is the one who asked questions from her teacher too, and all students were excited to show off what they already knew about it.
Michelle Goes To Congress is one of the best books I've ever read about government, elections, and democracy which explained this intricate subject in a fun and easy manner. Hand-drawn illustrations and easy language make this book a fun learning experience for children.
This book is like an educational tool for parents and teachers that provides a basic understanding of the government and its functions, and it should be added to the school and public libraries.
Perfect for 5+
Grab your copy from Amazon.