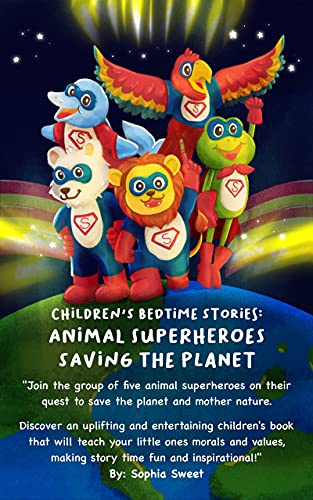 Book Review
Children's Bedtime Stories: Animal Superheroes Saving the Planet Sophia Sweet
This beautiful book shows how animals are suffering because humans cut trees, destroyed rainforests, and dumped rubbish in the ocean. We need more books like this so children can understand the importance of nature and do their bit to save the planet.
Children's Bedtime Stories: Animal Superheroes Saving the Planet is a book that will take you on an adventurous journey where you will meet five superhero animals as they try to save the Earth for Mother Nature and her golden-horned unicorn!
Perry the Parrot, Dolly the Dolphin, Leon the Lion, Pepe the Polar Bear, and Frido the Frog used to be ordinary animals.
They all have separate stories and even don't know each other. They got to know that they are the chosen ones and mother nature's superheroes, so they all come together to stop evil forces from destruction on earth, join these animal superheroes on their unforgettable journey to save mother nature.
Some scenes were written very beautifully and make us feel like we are in a world full of beautiful and colorful macaws, birds, polar bears, and dolphins, so get ready for these amazing bedtime stories of hope, courage, bravery, teamwork, and friendship.
Perfect for 6+
This book is available on Amazon.