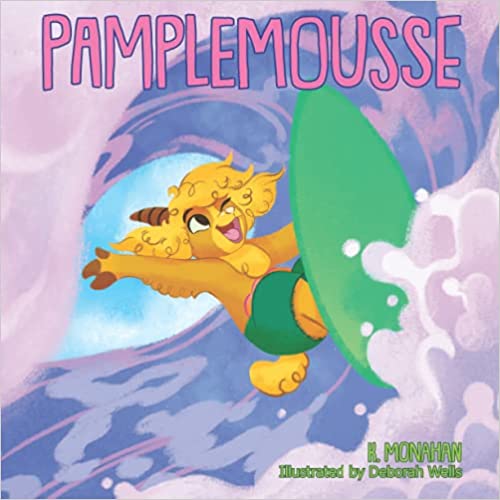 Pamplemousse by K Monahan 
"You must never doubt your ability to achieve anything, become anything, overcome anything and inspire everything."
Pamplemousse is a cute little goat who loves to surf. Pamplemousse is excited about the surfing contest, he practiced day and night for this, but when he went to register his name, judges said goats are not allowed.
He feels sad and sits down at the beach, but he doesn't want to waste his day just watching people surf, so he picks up his surfboard and runs straight into the ocean to do what he actually loves.
Follow Pamplemousse on his adventurous journey to learn that if you do what you love, you will always be a winner.
It encourages children to overcome obstacles, never give up on dreams, and celebrate their achievements with pride.
Illustrations are vibrant and colorful pages filled with surfing scenes make this book a fun adventure journey for kids.
This delightful story teaches young children what it means to persevere and stay true to yourself.
Perfect for 2+
This book is available on Amazon.