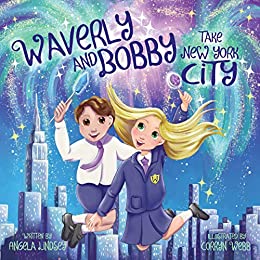 Book Review
Waverly and Bobby Take New York City: A Magical School Fieldtrip by Angela Lindsey
Get ready for the magical and whimsical witch fun with Waverly and Bobby, and this time, Waverly, Bobby, and their friends of West Charm School will be going on their first-ever field trip to New York City.
Waverly and Bobby are excited to visit some magical places like the secret museum of Witch history in NYC. From magical museums to wizardry conventions, there's something magic happens on every page, and they get to learn the real meaning of witches and their magical spells.
This story is all about magical adventure, and children will learn the importance of following the rules, kindness, friendship, belief in magic, and many more things along the way.
Illustrations are vibrant throughout the book. The author has a great understanding of children's world and imagination that makes this book more magical and enjoyable for kids.
Perfect for 3-9 years
This book is available on Amazon.