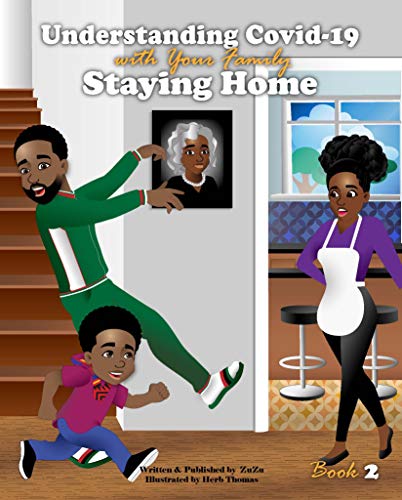 Book Review
Understanding Covid-19 with your family: staying home By ZuZu Ismail
Illustrated By Herb Thomas

"Understanding Covid-19 with your family: staying home" is book 2 in the "Understanding Covid-19 " series.
Jabore mom asked him to complete his spring assignment journal given by her teacher Mrs. Garcia, but he feels alone and even bored with playing video games. He wanted to visit his friends and grandma, then his mom consoled him and said, you can play with me too, and then we can have chocolate chip cookies. In the end, Jabore's grandma passed away from coronavirus, and they visited The White flag memorial to remember her.
Book 2 focuses on introducing emotional and life tragedy to children with regards to the pandemic and losing family to sudden life events. Book 2 also focuses on family bonding and addressing the stresses of staying home with your family during the covid-19 lockdown.

It is not easy to stay calm and composed in this panic situation, where children can't meet their friends, and they don't even know how things are going to get better, so this cute book helps parents to stay busy with their little ones and give them emotional support in different ways.

The beautiful illustrations help children to understand the importance of washing hands and social distancing in public places.
Children learn more about this worldwide pandemic through this book and understand that as a family, we can support each other.


Perfect for 2+
This book is available on Amazon.

www.zuzulandpublishing.com/