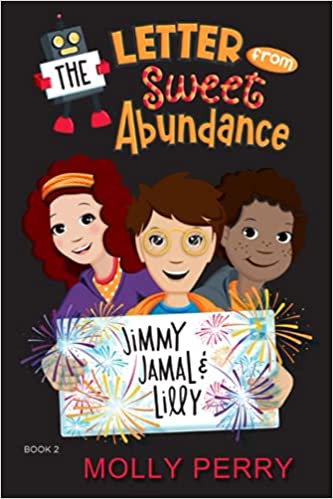 The Letter from Sweet Abundance by Molly Perry
This is the second book in THE GAME series, and this time Jimmy, Lilly, and Jamal are off for another exciting adventure into the cartoon world of Sweet Abundance. They received a rainbow letter from Sweet Abundance for help. The color is disappearing from the cartoon world of Sweet Abundance, and their body parts like fingers and toes become invisible, so Randy, the minivan, Bernard, the dog, and little Johnny ask for them to come back soon and above all, Isadore is also missing.
Now they took out their The Game board to play again and followed the instructions to go back, but Eddie, a mean bully from school, followed them into Sweet Abundance. Get ready for the fun and unending adventures with this heartwarming story of kindness, courage, and friendship.
I loved the storyline that created a mystery and suspense that made the reader curious about what happened next. This delightful book has interesting animated characters that make this book a fun-filled gaming experience for children.
The Letter from Sweet Abundance is perfect for children who love adventure and it highlights the importance of love, teamwork, and friendship.
Perfect for 7+
This book is available on Amazon.