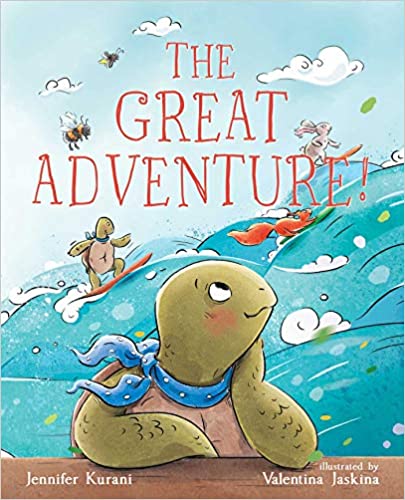 BOOK REVIEW
The Great Adventure! By Jennifer Kurani
The Great Adventure is the second book in the series with a strong message for kids.
Turtle stuck in the house, but he wanted to have some fun and adventure. He worries his friends are having fun without him. He daydreams about his friends, Squirrel must be happily racing through the forest gathering nuts, Rabbit is probably riding on a giant red tractor and harvesting carrots, Bee must be exploring creepy caves and firefly soaring through the dark sky, then he decides to go on an adventure all alone, but soon he gets bored and started feeling alone. Then he found all his friends playing together in the park and having fun, now he understands that real adventure is spending quality time with friends and family. Illustrations are vibrant and colorful pages filled with adorable animal characters make this book an incredible learning journey for kids. This cute and sweet story is very relatable for anyone as we all daydream so many things and judge people on our assumptions. It teaches children about family love, friendship, and positive behavior.
Perfect for 3+
This book is available on Amazon.