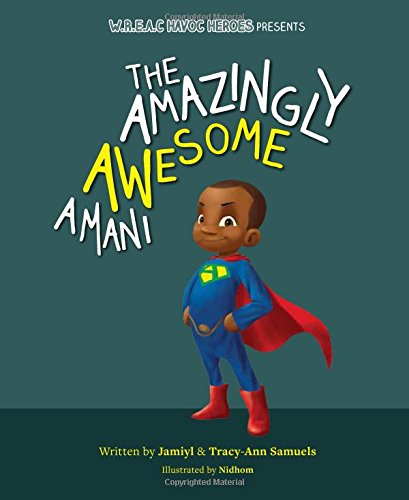 The Amazingly Awesome Amani by Jamiyl Samuels Tracy-Ann Samuels
Every child has a different way of expressing their imagination and creativity, and that is what makes them so special, like the boy Awesome Amani in this book.
Amani Taylor is a kind-hearted boy who loves to read superhero books. He is good at studying but talks very little. Even when some of the kids tried to talk, he didn't respond, he just smiled. But at night, he becomes AWESOME AMANI, a superhero who helps those in trouble.
Follow Amazingly Awesome Amani on his superhero journey to discover his superpowers and how his parents support him and don't force him to fit into this world.
The Amazingly Awesome Amani is an incredible book dedicated to children who are autistic, developmentally delayed, and suffer from ADHD, communication, or speech delays.
This beautiful book celebrates those children who are just as special, just as gifted but often misunderstood, simply because they experience and interact with the world differently.
Perfect for 3+
http://www.theamazinglysensationalkids.com/
Grab your copy from Amazon. The Amazingly Awesome Amani" is available at Mascot Books (www.mascotbooks.com), Amazon.com, Barnes&Noble and other major retailers.