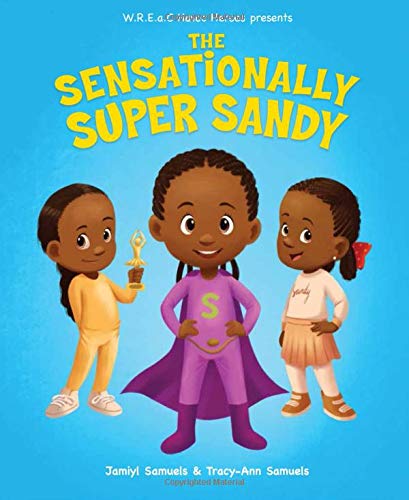 The Sensationally Super Sandy by Jamiyl Samuels, Tracy-Ann Samuels
The Sensationally Super Sandy is an excellent resource for parents and siblings of special needs children. It helps them understand their sibling's behavior and inspires them to accept and embrace their siblings.
Siblings have a hard time coping with some of the challenges and emotions that come along with having a special needs brother or sister. And sometimes they think that their parents don't love them or don't have time for them, like the protagonist in this adorable book.
Sandy Taylor thinks her brother Amani is weird because he doesn't talk. Then her Mommy and Daddy explain why he behaves like that and why he needs the extra love and attention. Sandy acknowledges that Annabelle, a girl at her school, behaves like Amani.
Join SENSATIONAL SUPER SANDY on her journey to save Annabelle from bullies and learn that people may look different or behave differently, but they are all loved and as wonderful as us.
This book teaches children to be kind and empathetic and tells them to never judge someone just because of how they look or behave.
Perfect for 5+
Grab your copy from Amazon.
FOLLOW US ON INSTAGRAM:@TheAmazinglySensationalKids
CHECK US OUT ONLINE:www.TheAmazinglySensationalKids.com
"The Sensationally Super Sandy" the3rd book in the T.A.S.K. Heroes series is now available at TheAmazinglySensationalKids.com, Amazon.com, Target.com, BAM.com, MascotBooks.com, and other major retailers