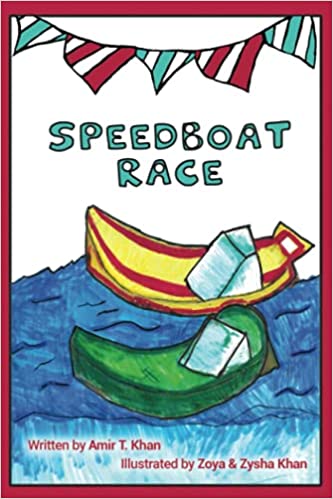 Speedboat Race by Amir Tariq Khan
Speedboat Race is a charming story that teaches children to overcome negative thoughts and inspires them to believe in their dreams.
This story follows John, a young boy who wants to win the big speed boat race. He thoroughly checked his boat and fixed all the scratches. After that, he studied the race map and practiced on the race track in the lake. He didn't want to leave any stone unturned to win this race,
But when he returned from the race, some children threw stones near the dock, and some hit his boat. It was impossible to repair these cracks and dents till morning, but John didn't give up and put all his efforts to win the big speed boat race.
This book helps children overcome their negative thoughts and teaches them to believe in themselves during uncertain times. Hand-drawn illustrations and easy language make this book a fun learning experience for children.
I am sure children will enjoy this inspiring story of John that says anything is possible with belief and determination.
Perfect for 5+
This book is available on Amazon.
https://www.amazon.com/Speedboat-Race-Amir-Tariq-Khan/dp/1719194459/