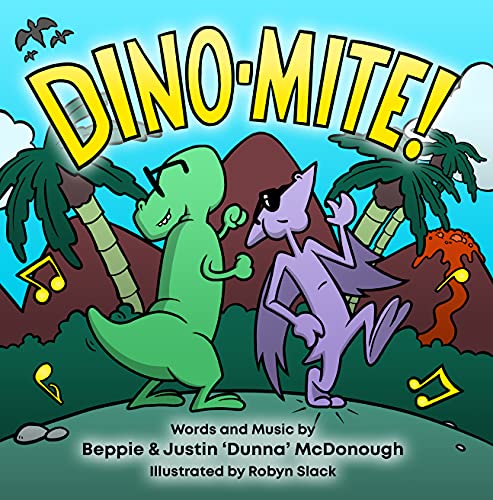 Dino-mite! by Beppie & Justin McDonough
Stomp to the left, stomp to the right.
Wiggle that dino tail tonight because you're Dino-Mite!
For hundreds of years, people of all ages have enjoyed dance and music, and even dinosaurs. Let's meet two dancing Dinosaurs who forced you to move your feet on their beat. Yes, it's Dino-Mite.
Larry, a Tyrannosaurus, and Joe, a Pterodactyl, are best of friends. Joe made up a brand new dance that he wants to share with Larry. Joe named it Dino-Mite, and they both enjoyed doing this dance. Their other dinosaur friends joined their fun dance, but Larry decides to make up his own dance, and then things get crazy.
Join Larry and Joe on their fun and hilarious adventure as they share their brand new moves and grooves with the world. With light-hearted rhymes and colorful illustrations, this book inspires children to follow their hearts.
Overall this is a fun sing-along book for kids that takes them into the world of dancing Dinosaurs.
If you have young kids and want them to fall in love with reading, music, and dance, then you have to buy this book.
Perfect for 2+
Grab your copy from Amazon.
You can download this song from beppiemusic.com/dino-mite.