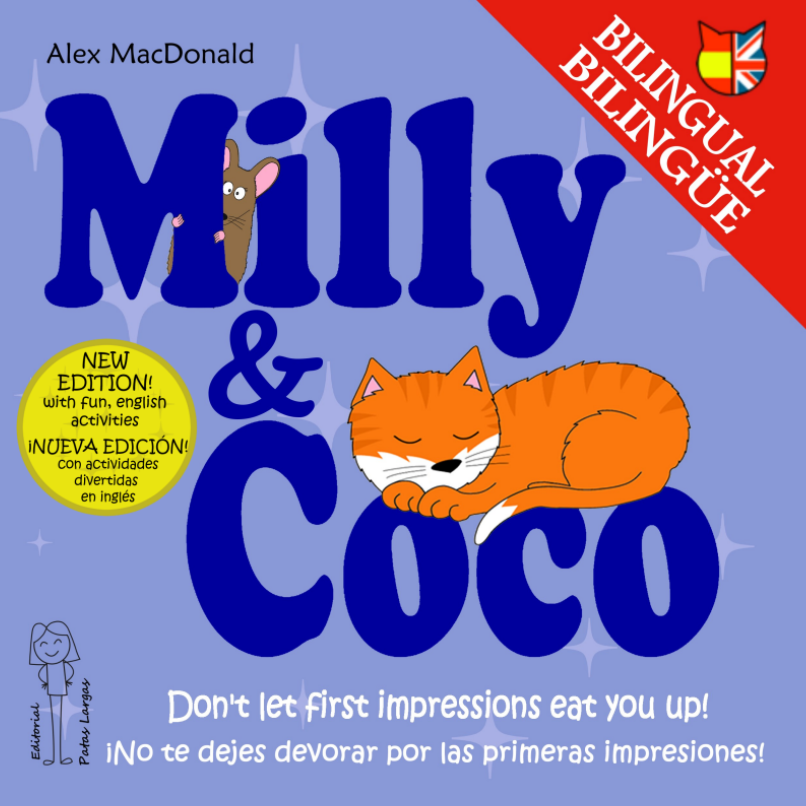 Milly & Coco by Alex MacDonald
Milly & Coco is an adorable story of a little mouse named Milly who lives in a house, when one day a new pet cat arrives called Coco. When Milly looks out of her little mousehole for food, she always sees Coco eating something like tails, so Milly is always scared to go outside. She thinks that Coco will eat her as her mom used to read stories to her and her brother about cats who love to eat mice.
This humorous story follows an unexpected course, in which we see Milly bravely face her fears. She learns that not everything is what it seems, and we should never judge someone just because of how they look or based on our assumptions.
Written in bilingual text (Spanish and English), the author has cleverly managed to rhyme the text in both languages. There are key words highlighted to help the reader learn vocabulary and the rhymes are a great way to ensure the right pronunciation. The colorful illustrations of Milly and Coco make this gorgeous book an incredible learning journey for kids. 
We highly recommend this cute story: relatable for everyone, as we all assume so many things and misunderstand them. An enjoyable read that teaches children about love, kindness, friendship, positive behavior, and also helps them to learn a different language. 

Perfect for 3+
This book is available on Amazon.