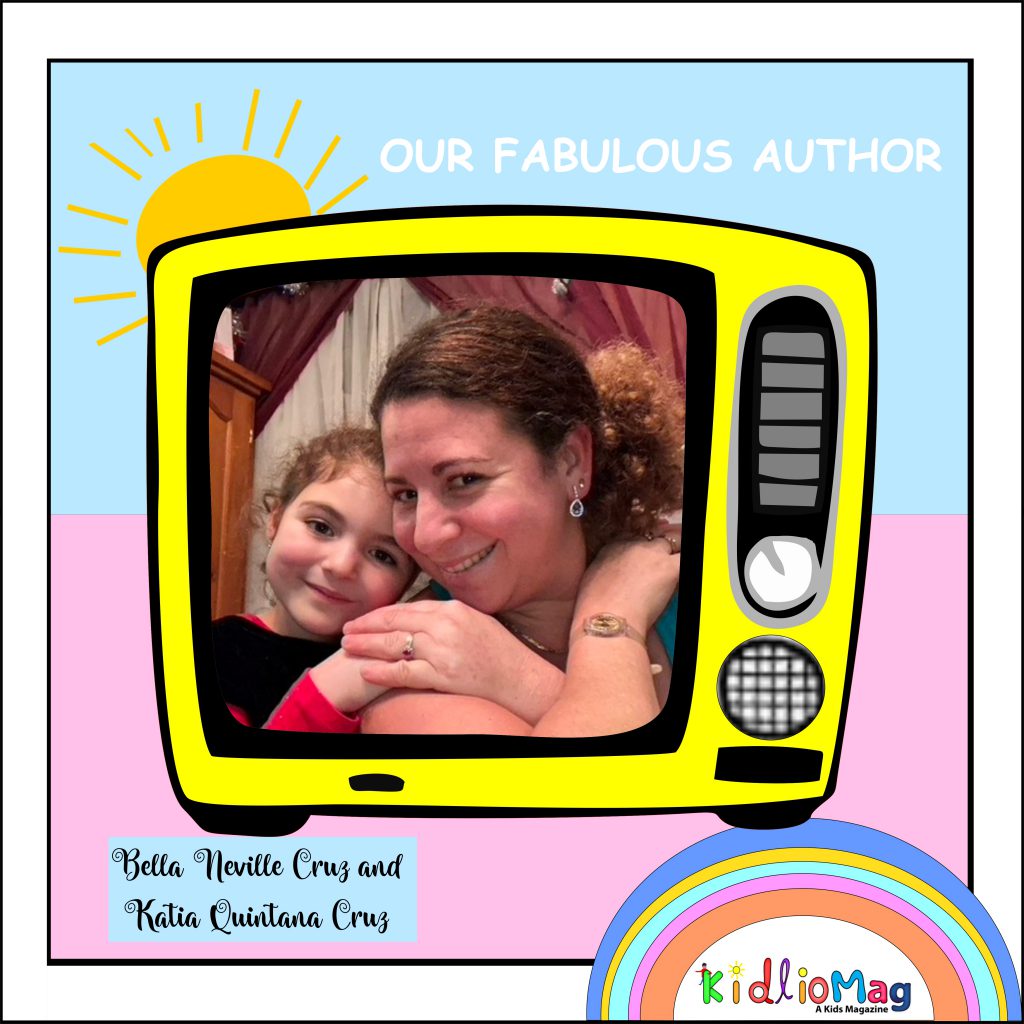 Q: First tell us something about yourself ?
Izabella Marjorie "Bella" Neville Cruz is a 5 years old child. She is the creator of the children's book,"From Grandma with Love. Bella speaks Spanish as her second language. She loves music, I can find her often making up songs. Drawing and painting are on the top of her list when it comes to entertaining herself. Arts, crafts and books are her great passions, but most of all; she enjoys making up stories, specially with mom.I am Katia Quintana Cruz, her mom and her accomplice since the moment she told me that she wanted to share her story with her friends, teachers and her family. I am a Cuban immigrant, my first language is Spanish. I self learned the English Language. We live in Vancouver, BC with my husband David, Bella's Dad.

Q: How and when did your journey start as a writer?
The journey as a writer is just starting. Bella wrote her little book with drawings, she asked the magic question of "publishing" in her words, and I started to find out info about it. I am still in diapers to tell you the truth, but with big hopes and desires of growing with my 5 years old daughter.

Q: When did you write your first story? Is it published or not?
"From Grandma with Love", is the first Story created and written by Bella and I. Since then we have written several more, not published yet. "From Grandma with Love", will be published by the end of June, 2021, in a few weeks. The Spanish version will also be available as: "De Abuela Con Amor".

Q: Tell us something more about your books?
We have written other books, however I am seeking a traditional contract for them. Some are written by myself, others are written as, together. I can mention some:"Brain Tickle", by Bella and Mom
"There is a weird Tree in my backyard""Lulú, the crazy puppy""A little Girl can dream""Lonely Hair""A Fallen Tooth""Garden on Wheels"All these stories have been submitted to some publishers seeking a Traditional contract. Some might need some changes, but at least they are mostly ready. There are several more.
Q: Why do you choose kids as your reader? is there any specific reason?

My girl is an extremely friendly child with lots of energy and happy moments to share. I love to follow her adventures and to share her dreams. I feel very comfortable around kids, because I feel like one of them sometimes, they make me laugh and feel full of life. My girl brings most of the ideas up to life. Sometimes it is a dream she had, occasionally it is a phrase, other times it is something that just comes to mind and I have to run down stairs to write it. For my little one, anything will trigger a story. An inspiration from her Grandma, a book, a friend, a dream, a story, a friend. She has a very vivid imagination. Kids are fun, if we are able to adjust to them and to understand them, then we are going to be loved by them. It is easy to get their attention when you blend and flex to fit in their world. Seeing them smile and laugh is the most beautiful feeling. When I make my five years old laugh, I know that I have the potential to make other kids smile as well. Bella has a very similar personality. She enjoys helping her 3 to 7 and 8 years old friends. She recognizes the importance of seeing other kids happy and making them laugh. She knows that every kid deserves love and reassurance, this is a nice book to show them that every kid should be loved no matter what.
Q: How did these stories and characters come to your mind?
Bella was inspired by family events, her grandma and probably herself.

Q: Do you want to leave any message for your readers?
Speaking on behalf of my girl and myself, I can only say that every child needs to be listened to. My daughter had a story to tell. She did so by drawing a little book I made for her. When I had a chance, I wrote her story following her descriptions. I had no clue what I was getting to when my Bella stated that we wanted her family, teachers and friends to hear her story. I am still in diapers, I still don't know much of the publishing industry or writing exceptional books. I know one thing: My girl wanted to show her book to the world, I have done nearly the impossible to make her dream come true. Knowing that she will be a published author at 5 years old, it is pure happiness to me that she is starting her life with the right foot.