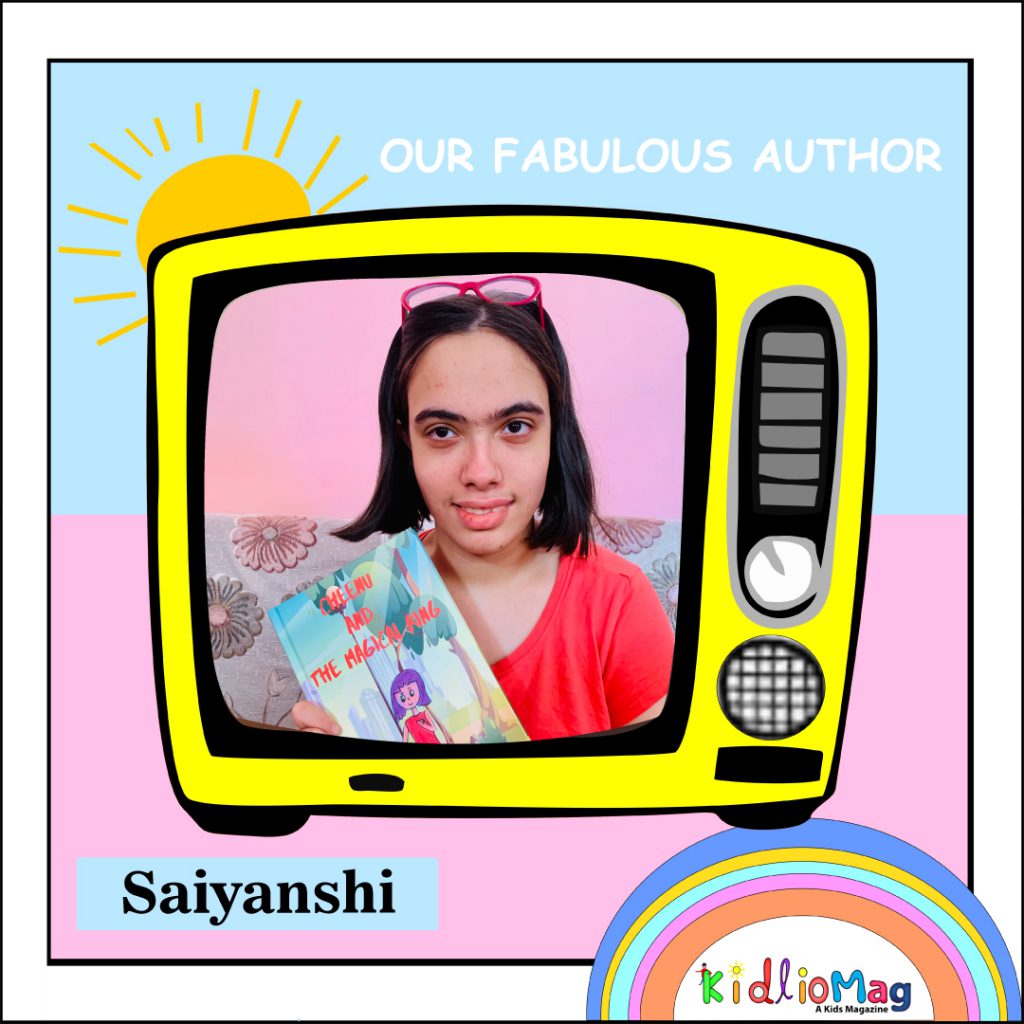 Q:  First tell us something about yourself?
I am Saiyanshi and I am a fun loving, cheerful teenager from Gurugram, India. I am creative and love to keep myself busy with making something or the other all the time. I have participated as a painter in exhibitions in Gurugram and on virtual platforms online. I am a passionate storyteller and started a YouTube channel (with my mother's help) – Spin A Tale by Saiyanshi . I have also participated in online storytelling events and theatre plays and activities.
I feel, The fact that I have a learning disability has given me a unique perspective of seeing things around me.
Q: Which was your first read as a kid?
My mother used to read stories to me ever since I was born. I one book I remember most is Dr. Seuss's Red Fish, Blue Fish. It is a floating book which I would even take bath with. My absolutely all time favourite 
Q: When did you write your first story? Is it published or not?
I wrote my first story last year (2020) . It was about a teenage girl, who was a spy. Her name was REDHOOD. I named it Adventures of REDHOOD. I could not finish it and it remains unpublished. Maybe in the future I would work on that story again.
Q: Tell us something more about your books?
My first published book is Cheenu and the Magical Ring. This is a modern day tale of a sweet girl called Cheenu and what happens when she gets a magical ring. The story has a moral which strikes a chord across all ages. This is a simple story to be enjoyed by the whole family. The book is available on Amazon – https://amzn.to/3Ah8GIC
I wish to keep writing with the same characters and explore what new adventures they go on together.
I like to write stories based on what I see around me or my experiences. The main characters of my stories are generally female. I believe in having strong leads who are able to deal with difficult situations but at the same time are fun to be around. I have learnt a lot through all the stories I have heard throughout up till now and I am sure they would continue to teach important life lessons to me in future as well. It is the same I want for my readers. I want my stories to teach important life lessons in a fun way.
Q: :What are your other hobbies apart from reading and writing?
I am actively involved in theatre activities. I love role playing and dressing up for various characters of my play. It is also lots of fun and I love interacting with other children. It is a fun group activity. I also love to draw and paint. This is more of a solo activity which helps me in managing my emotions. Drawing and painting are my coping mechanisms. It makes me calm and I feel peaceful.
Q: How do you manage your time between study and writing?
Nowadays due to covid-19 pandemic, we all are following the protocols and classes happening online. This has been a blessing in disguise as I am able to manage things. Due to all activities happening online I am able to participate in activities outside India as well. This would have been difficult otherwise. I miss my friends and the fun we have together but at the same time I am able to explore beyond what I ever thought would be possible for me at my age.
 Q: Do you want to leave any message for your readers?
My message to the readers would be from my life experience only – Friends never give up. Life is a challenge that we need to enjoy. There will be some good days and some bad ones. The most important thing is that we find the things that keep us happy and always enjoy them. Keep going, stay safe and stay healthy.