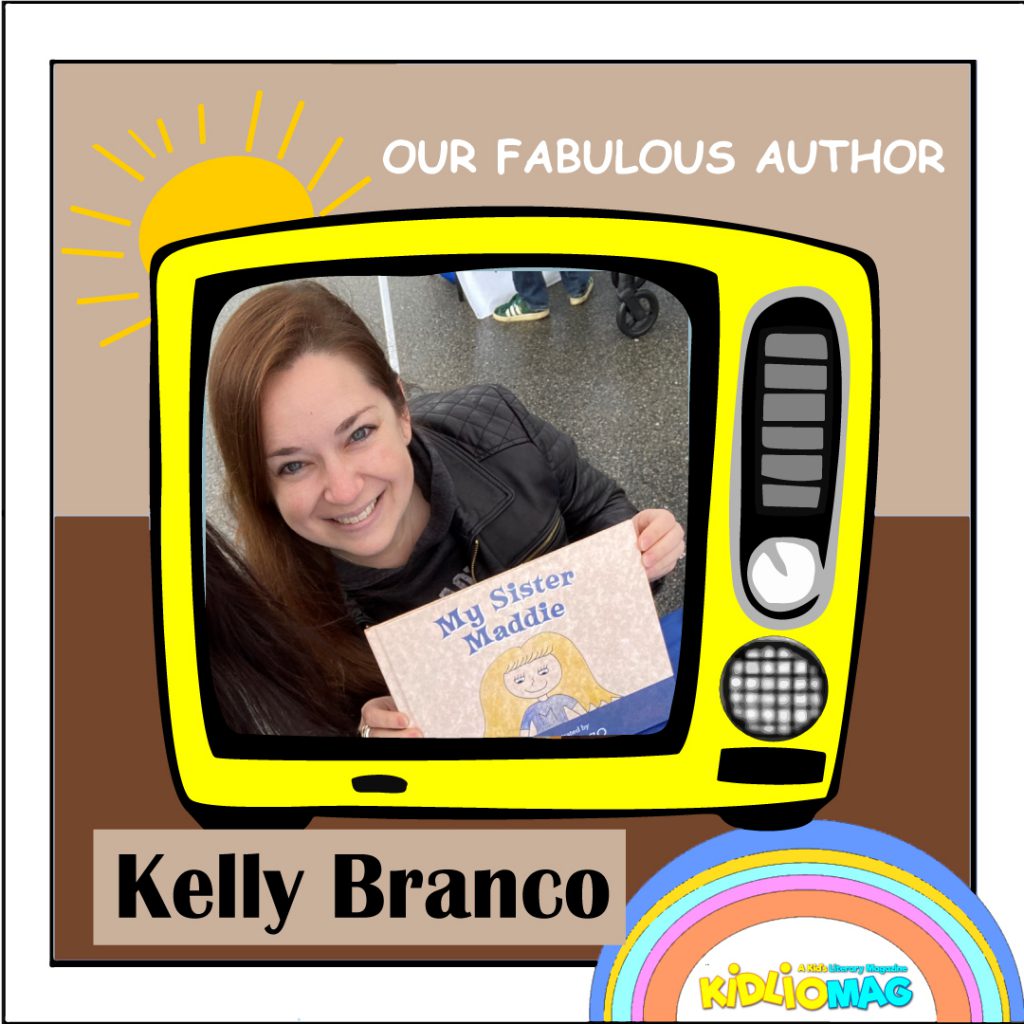 Q:  First tell us something about yourself.
I am mother of three children (6,4, and 3) and the CFO/ CCO at an asset manager. I have been in finance for about 17 years yet have always had a passion for creativity, particularly music. My husband and I met doing community theatre when we were children and music continues to influence our lives. Our family is constantly listening to and/ or playing music together at home together.
Q: How and when did your journey start as a writer?
Both my younger brother and oldest of three children have autism diagnoses, so I have been an advocate in the autism community nearly my entire life. I spoke at the local elementary schools for autism awareness month in April and it was so wonderful seeing how engaged the children were in wanting to learn more about their neurodivergent peers. That sparked the beginning of my writing journey with the creation of My Sister Maddie, a light introduction to neurodiversity from the view of a loving sibling to begin the conversation about people with unique perspectives at a young age.
Q: When did you write your first story? Is it published or not?
My Sister Maddie was released on October 3, 2023 and it is my first book.
Q: Tell us something more about your books?
My hope is that beginning the conversation surrounding neurodivergent ways of thinking at a young age will inspire the next generation to be more accepting and inclusive of their unique peers.
Q: How did these stories and characters come to your mind?
Maddie, the main character, is based on my oldest child Madeline and is told from the perspective of her siblings, Charlotte and Teddy. All of the children make an appearance in the book as they all offered inspiration to the book's message. My brother, Danny, also makes an appearance as I wanted to touch on the genetic component as well. I hope other siblings can relate to this book, and learn more about how wonderfully unique their neurodivergent siblings are.
Q: Do you want to leave any message for your readers?
I hope the book is shared in school districts in an effort to make other children more aware of neurodivergent individuals at a young age and show those children that it is ok to ask questions. Asking questions just shows you care, yet as adults I think we can let the concern over saying the right thing overwhelm the good intention of wanting to be a good friend to someone. I want children to ask how my daughter's speech development is going, I want my daughter to be invited to parties even though she may only be able to stay for 20 minutes because she might get overwhelmed by a lot of noise, I want other moms to lean on me as a friend without worrying I will compare their struggles to my own. We as parents should not be in competition with each other for who has it the hardest, or who has the most perfect family dynamic. We all have different perspectives and can have compassion for the mom who is concerned her child skips a number when counting to ten as much as the mom who is concerned because her child still doesn't say "I Love You" at 5 years old. We are all going through this parenthood journey and trying our best, and we should celebrate the accomplishments and empathize with the concerns as all feelings are valid and coming from a place of wanting the best for our children. I hope by beginning the conversation about neurodiversity in preschool or elementary school through sharing my book makes the next generation more comfortable learning about, and empathizing with, others who may have a unique perspective. I like to use the analogy of a superhero first getting their super powers. It may take some time to harness the powers you were granted, and having supportive friends can help in this process, but once those powers are harnessed having a unique and genuine perspective of the world is truly an amazing thing we can all learn from.