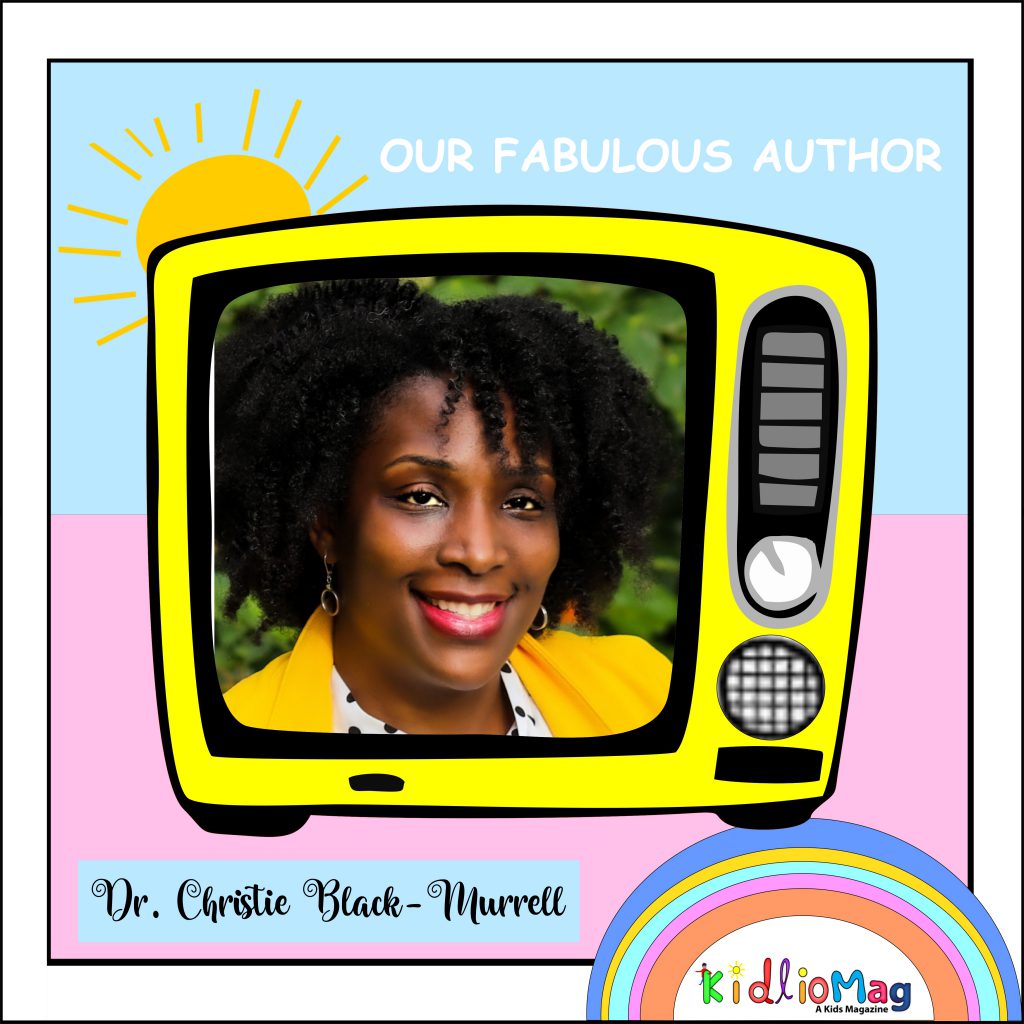 Q: First tell us something about yourself ?

Greetings, I am Dr. Christie Black-Murrell an author based out of Columbus Ga just 100 miles south of
Atlanta, GA. I am a lover of life and all things positive. I am also a counselor by trade and infuse my therapeutic skills into my writings and selection of topics. I am a devoted wife and the mother of two adventurous little girls. I am a huge kid who loves stories whether I am reading them to littles or writing them. It brings me great joy of a child's face when they can relate to my characters in my stories, laugh with the characters, or they learn the lessons that were the purpose of the book.
Q: How and when your journey started as a writer?

Writing has always been a part of my life even as a young child I would create stories. Probably around middle and high school I ventured towards poetry and journaling as a way to cope with life and growing up. I still always felt it was personal and often would not share my poems as it was like sharing my soul.

Q: When did you write your first story? Is it published or not?

It wasn't until around my mid-twenties after several prompts to put my poetry in a book. I literally took all of my old journals and created a collection of poetry. This was my very first book baby and I was so excited and extra nervous to share it with the world.

Q: Tell us something more about your books?

As I began my venture into Children's literature last year I went into with a desire to write books that reflect my little girls that I am blessed to call my daughters. I wanted to write books that speak to them and kids like them that encouraged them to be their amazing selves. My first Children's book was a book full of positive affirmations written from a parent to child with each page encouraging kids that there are no limits to what they do and be. I paired that book with a coloring book of positive affirmations and
a journal with 35 days of affirmations. All three of these books fall in line with my motto of speaking life to young people. I always want children to walk away with knowing that there is good in the world and they can be that good in the world. Most recently, I released a book about friendship that teaching diversity and inclusion. This book was about two little girls from different ethnic groups but with very similar hearts and common interests. It teaches the lesson from the perspective of 6-year-old and how
sweet friendship can be.
Q: Why do you choose kids as your reader ? is there any specific reason?

As a school counselor I read so many stories to children all about different lessons that taught such amazing lessons. However, most of those books did not have images of diverse children especially as a main character which bothered me. However, once I had my own children, I felt a pull even the more to write books with main characters who looked like my sweet babies. Plus, have you ever seen the smile on child's face when they are enjoying a great story…it's that look that makes my soul happy. I also know how important reading can be for the future of child…Readers are leaders.

Q: How did these stories and characters come to your mind?

The characters come from my little girls, my nieces, nephews, and the many little children that I have counseled, coached, or mentored over the last twenty plus years. The stories are always based on social emotional learning because I feel there is a many deficit in this area. Social emotional learning focuses on five main components: self-awareness, self-management, social awareness, relationship skills, and responsible decision-making skills all of which are essential to emotional development.

Q: Do you want to leave any message for your readers?

I would love for my readers to know that it is always my desire that once they finish any book that I write they will be better than before. It is my hope that every book will teach them lessons of social emotional learning and self-esteem. It is my hope that you fall in love with characters because I have lots more stories to share.
Facebook: www.facebook.com/authorchristiemurrell
Instagram: www.instagram.com/christie_blackmurrell_author
Twitter: www.twitter.com/authorchristie
Website: (Books can be purchased here)
Also, available on Amazon.com