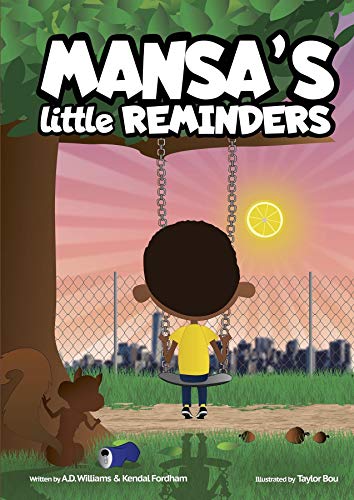 Book Review
Mansa's Little Reminders By A.D. Williams, Kendal Fordham
Mansa's little Reminders is a beautifully illustrated and fun-filled adventurous read for young and curious minds.
Values… money… save…
Squirrels spend all fall collecting acorns for the winter season. I know this is a normal process for them, but can you imagine how intelligently they planned for their future and efficiently managed their resources.

Mansa's Little Reminders is a book that depicts a boy's dream to provide a comfortable life for his family and about his wise furry friend Mansa, a squirrel.  
This story is about Mark, a young boy from a family with limited resources, where they have to think twice before buying or eating any normal thing. One day Mark saw Mansa, a talking squirrel on his windowsill stared at him. Mansa gave him some encouragement and lifelong lessons, so he promised himself that no matter what, he wouldn't give up until he achieves his dreams.
Mansa's little Reminders introduces kids to the concepts of earning and managing money. This book is an inspirational, motivating read for young kids and full of wonderful teachings. I can leave you with this wonderful quote that I found out very inspiring.
"The more valuable your work is to people, the more you will get paid to do it."
Perfect for 6+

This book is available on Amazon.