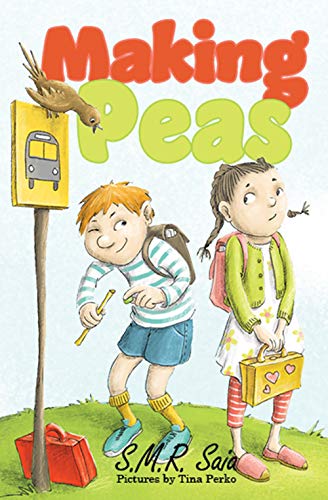 BOOK REVIEW
Making Peas by S.M.R. Saia
Gertie in the Garden Book 1

Making Peas is an inspirational story for children that gives them the courage to stand up against bullies and the confidence to solve their problems by themselves.
This story is about a girl, Gertrude the Gertie, who doesn't like her name. Gertie was named after her grandma Gertrude, but grandma also changed her name to Trudy.
Grandma Trudy loves to work in the garden and takes care of her after school. Gertie is a smart and intelligent girl, but her life changes from the moment Clark shows up in her first-grade class.
Clark doesn't follow any of the class rules and bullies Gertie and her friends all the time. Even he calls her Gertrude the Rude that she doesn't like at all. It is interesting to read how Gertie fights back and teaches him a lesson without breaking any rules and how they ended up making a pea plant.

Grow Peas or make Peace is the message behind this book that is very clear. I loved the story that allows young readers to see themselves as confident people and helps them to discover their uniqueness and strength.
Perfect for 6+
Pages: 85
Grab your copy from Amazon.