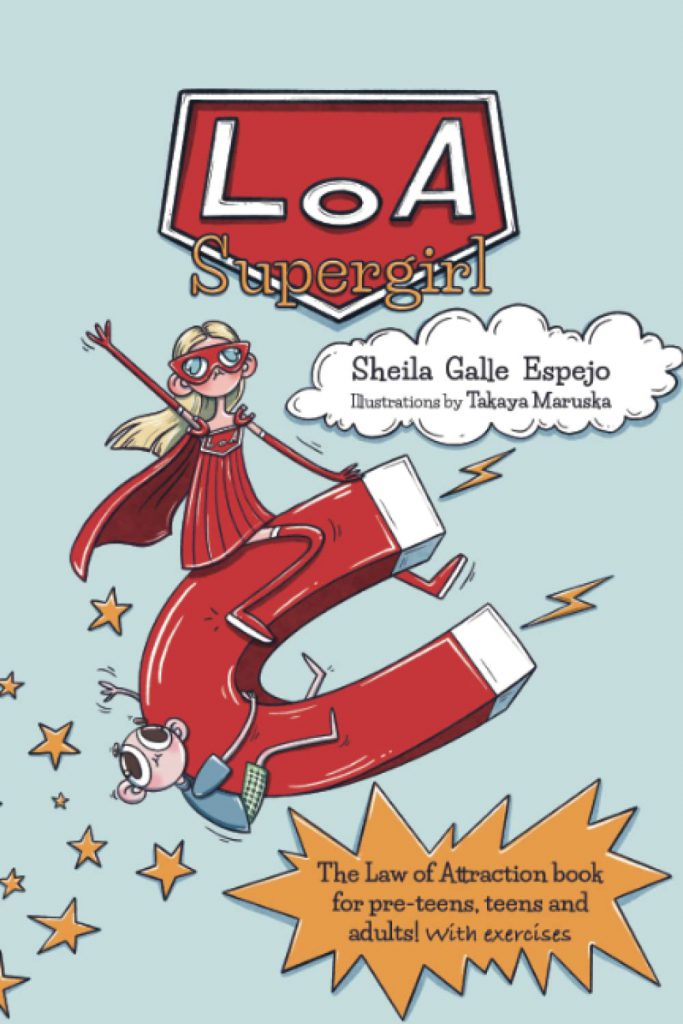 LOA Supergirl: The Law of Attraction book for pre-teens, teens and adults with exercises by Sheila Galle Espejo
Children need to understand that their thoughts can become a reality, so this comic book teaches about manifestation skills and how we can convert our dreams into reality.
This beautiful story follows LoA Supergirl, a superhero girl whose name is the acronym of Law of Attraction.
Join LoA Supergirl as she teaches us more about manifestation skills, positive thinking, and how our good thoughts work as a magnet, and how we can discover our unique superpowers.
The book is divided into five chapters; the first four focus on how to think and behave to attract what you want, and the last one focuses on how to make things happen via four easy steps to manifest anything in life.
LoA Supergirl is the first and only self-help book to explain the power of positive thinking, manifestation, and motivation via cartoons and exercises. Its style is characterized by simple narration and presented with colorful illustrations and visuals on every page, making it easy to understand and fun to read for all ages.
Perfect for 6+
Grab your copy from Amazon.
https://www.amazon.com/LOA-Supergirl-Attraction-pre-teens-exercises/dp/B09ZFJQ8LV/ref=tmm_pap_swatch_0?_encoding=UTF8&qid=1686665980&sr=8-1