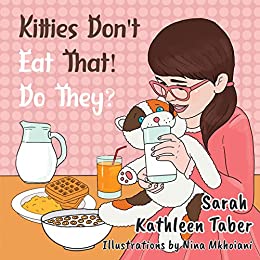 Kitties Don't Eat That! Do They? by Sarah Kathleen Taber
Kitties Don't Eat That! Do They? is a charming story that every child can relate to! Children are emotionally attached to their stuffed toys, and this adorable picture book helps them outgrow attachment and understand that you can't feed them everything you eat.
Lilly is a cute little girl who loves her kitty, Piper. Whatever she does, she always carries her along, even eats with her. Lilly gives her every food she eats, from milk to pizza, from ice cream to cookies, and that makes Piper very messy.
Read on to learn how Lily, with the help of her mom, understands the difference between stuffed and alive kitties.
Illustrations are vibrant and colorful pages filled with cute kitties make this book an incredible learning journey for kids.
Read along with your child or grandchild as Lilly takes them on a fun-filled adventure with Piper as she learns what kitties can and cannot eat and even when to protect what's hers.
Perfect for2+
Grab your copies from Amazon.