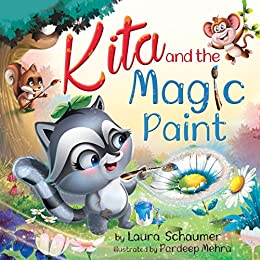 BOOK REVIEW
Kita and The Magic Paint By Laura Schaumer
Kita and The Magic Paint is a cute and colorful story that teaches children about different colors and the magic of combining colors in a fun and imaginative way.
Kita and The Magic Paint is a fun-filled read for young and creative minds, and the author just created magic with beautiful characters like Kita the raccoon, Bushy the squirrel, and Artie the monkey.
Kita and her friends love to paint. One day when Kita paints a blue flower and Bushy paints a red flower, but Kita wants her flower to be red and blue, so she exchanges her paint cans with Bushy, and after applying red, the flower turns purple.
Follow Kita and her friends on a magical journey of discovering magic through colors.
The illustrations are so vibrant and colorful that make children fall in love with this book.
We can also create this magical experience at home for children so they can learn about mixing colors and how they can create a brand new color.
Overall a perfect learning journey for toddlers & preschoolers.
perfect for 1+
This book is available on Amazon.