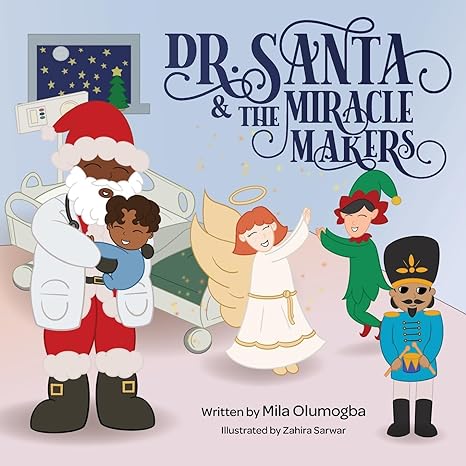 Dr.Santa & The Miracle Makers by Mila Olumogba
Dr.Santa & The Miracle Makers is a heartwarming and inspiring story of hope, faith, and love that celebrates lesser-known healthcare heroes with a sprinkle of Christmas magic. This rhyming picture book also conveys important messages about the value of teamwork, importance of community and the spirit of Christmas. 
On a cold December day, a baby boy named Yooku falls very sick. He is rushed to the hospital by his mom and dad. With hope slowly fading, his parents decide to call Santa to help the understaffed hospital.
It is really interesting to read how his mom contacted Santa for help, and Dr. Santa immediately sent his Miracle Makers team of angels, elves and nutcrackers to spread healing and Joy to every patient before Christmas. With every passing day, Yooku feels better with the care and support of Santa and his Christmas elite team, his family, and community.
I liked how the author created a realistic setting of a hospital and blended it with fantastical elements of Christmas and Santa's world. I also liked how the author showed the emotions and struggles of Yooku's parents and how they found comfort in their faith. I think this book is a great example of how stories can inspire and heal people.
Inspired by the real events, Dr.Santa & The Miracle Makers is a must-read for the holiday season, as it will fill your heart with warmth and gratitude.
Perfect for 4+
Grab your copy from Amazon.