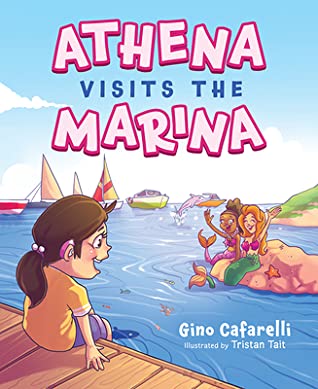 Book Review
Athena Visits The Marina By Gino Cafarelli
Illustrated By Tristan Tait
Athena Visits The Marina is a beautifully illustrated picture book dedicated to all children born deaf or with a hearing loss.
Athena, a little girl whose name is after a Greek goddess, was born with a hearing loss. She gets up every morning and wears her hearing aids first, she has a daily routine but on Saturday, she takes a trip with her parents to the marina, a beautiful place with boats, fishing, and an aquarium. Athena's hearing aids amplify sound, and she heard Dolphin singing and splashing in the water, and later she saw two beautiful mermaids and talked to them. Athena found so many water friends in the aquarium, and the trip turned out to be a magical adventure for her.
Join Athena on her magical discovery in the marina, filled with beautiful mermaids, dolphins, and a lot of water animals. This book is not about showing any sympathy but celebrating their uniqueness and adventure through amplified voices.
Athena Visits The Marina is a beautiful tale of adventure, dreams and takes children on an adventurous journey of discovering magic through sounds.

Perfect for 2+
This book is available on Amazon.