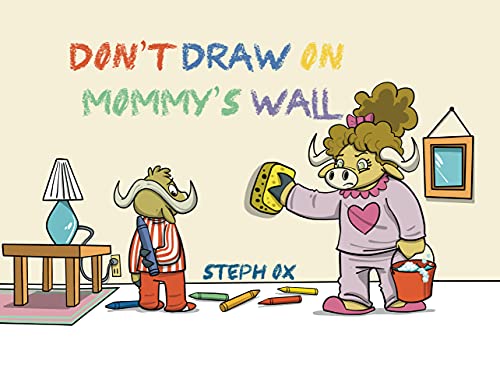 Book Review
Don't Draw on Mommy's Wall by Steph Ox

As kids grow up, they choose different mediums to express their imagination, and walls are like a canvas for them to showcase their art and creativity.
Don't Draw on Mommy's Wall is a fun and adventurous story about a child's imagination and teaching them how to follow instructions.
It's movie and game day for Oxes, so Mommy Moral is going to pick some snacks. She instructs Hazel to look after her younger brother Ziggy and watch the house stay clean. As Mom went, Ziggy said to Hazel, look here, I drew a purple bunny! After cleaning it off, Hazel says to Ziggy, " Don't draw on Mommy's wall" or anywhere in the house. But Ziggy didn't listen, he continued to draw on shoes, sofa, washing machine, or every possible thing in the house except walls. What's wrong with Ziggy? Why does he refuse to listen?
So now you have to read how Hazel and mommy Moral explain to him that you can draw, but only on blank paper.
Don't Draw on Mommy's Wall is a cute relatable story for every household and inspires children to learn the importance of listening to elders, following the rules, and many more things along the way.
Sometimes miscommunication creates a big problem, so this book also tells parents to give clear instructions to children so they can easily understand what they can do.
Perfect for 2+
Grab your copy from Amazon.