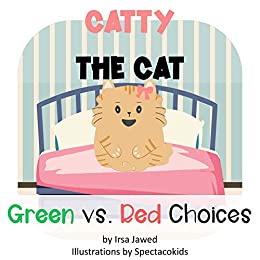 BOOK REVIEW
Catty The Cat Green Vs. Red Choices by Irsa Jawed
Catty The Cat Green Vs. Red Choices is an engaging picture book that teaches children about their power to CHOOSE.
This book focuses on how children can become better if they make green choices over red choices. Each page illustrates some good or bad habits and behavioral practices while highlighting the positive outcomes that can encourage children to choose good habits.
So get ready to learn about various green choices to make and red choices to avoid during the day, with adorable Catty The Cat.
This charming picture book is a Social-Emotional Learning tool for parents and teachers to teach basic manners, states the importance of positive behavior, and encourages children to care for rules in public places.
Perfect for 1+
Grab your copy from Amazon.